To slim his chest, a man must burn more calories than he consumes through diet and exercise. For the best results, he should perform exercises that focus on the entire body. Workouts must include both cardio and strength exercises. Chest strengthening exercises slim a man's chest by toning the area. Cardio exercises burn calories, which results in chest size reduction through fat loss.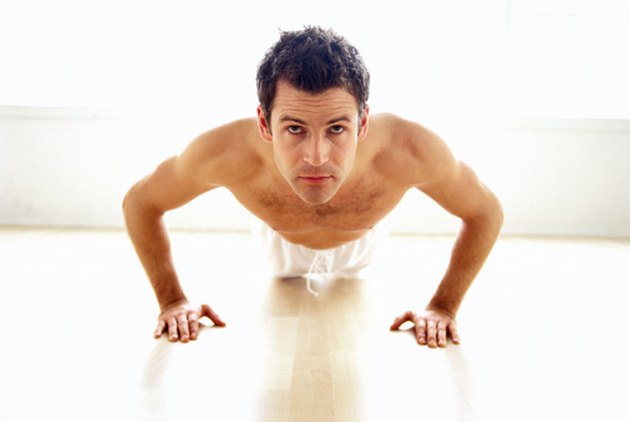 Walk or Run
To lose fat and slim your chest, you must burn 3,500 calories for each pound you want to lose. Walking or running are easy and cost-effective ways to burn calories. The Centers for Disease Control and Prevention reports that a 154 lb. person burns an estimated 460 calories an hour, walking 4.5 mph. Running at 5 mph, that same person will burn 590 calories an hour. Running at 5 mph, a 154 lb. man will lose 1 lb. after about six hours of running. To increase the amount of calories burned, increase the intensity. Intensity is determined by how hard you are working — how fast you are moving or the depth of the incline. Other cardio exercises, such as biking or jumping rope, will also help you burn calories to slim your chest.
Push-Ups
The American Council on Exercise calls the push-up an exercise you can't live without. That is because it works your chest muscles, your triceps and your core muscles. A push-up will help slim your chest by toning your chest and arm muscles while burning calories. Push-ups tend to require more energy due to the stabilization your body must provide while performing the exercise. You may use progressions such as leaning on a stability ball with your hands or feet to add to the workout. Beginners can perform a modified version by placing their hands on a stable, elevated surface.
Chest Press
A chest press is an effective way to build chest muscles. Chest presses require the use of a bench and weights. Weights can include dumbbells, bar bells or resistance bands. To tone your chest for a slimmer look, perform a moderate amount of reps with a moderate amount of weight. The National Academy of Sports Medicine recommends 12 to 25 repetitions using 50 to 70 percent of the maximum amount of weight you can lift in one rep to slim and tone. To see a slight increase in muscle size, perform 8 to 12 reps at 70 to 85 percent max.
Squat Thrusters
Squat thrusters are a full-body exercise that will burn calories and build chest muscles at the same time. Begin by squatting down and firmly planting your hands on the ground. Bring your feet behind you into a push-up position and extend your arms straight up beneath your shoulders with your back flat. Then bring your feet forward to return to the squat position. Stand up completely. Pull your shoulders down and back. Repeat for 10 to 15 repetitions, or as many as you can until you can work your way to ten.