Over 75 percent of the ingredients used to make Baileys Irish Cream come from Ireland. Fresh dairy cream comes from two dairy suppliers on the island. The whiskey is a triple pot still blend supplied by the Old Midleton Distillery in County Cork, Ireland.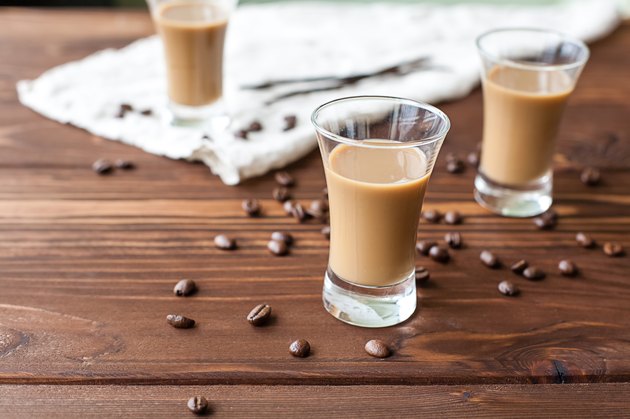 The sugar comes from sugar cane and sugar beet, and the distinct chocolate character of Baileys is derived from a proprietary recipe of cocoa extracts. According to the company website, over 2,300 glasses of Baileys are consumed every minute of every day in 180 countries where alcohol is legally consumed. Well, if we're drinking that much, maybe we should find out what's in it.
Serving Size and Calories
According to LIVESTRONG's calorie tracker MyPlate, based on 100 milliliters, which is 3.3 ounces or just under two shots, there are 327 calories per serving of Baileys Irish Cream.
Protein, Carbohydrate and Fat
There are three grams of protein per serving of Baileys, and 25 grams of carbohydrates with 20 grams coming from sugar. There are 13 grams of fat with eight grams coming from saturated fat.
This basically means that two shots of Baileys contain about the same amount of sugar as a can of regular soda, and can be considered a high fat beverage. Baileys is not a significant source of cholesterol, sodium or fiber.
Food Allergies/Sensitivities
Baileys Irish Cream contains whiskey made from wheat, so it is not gluten free. There are no eggs in this product. Baileys contains cream from cow's milk that contains traces of lactose. There are no nuts in this product, but the oils used to blend the liqueur may have traces of peanut oil.
Shelf Life and Recipes
Baileys guarantees its flavor and can be enjoyed for up to two years when properly stored in a refrigerated environment away from direct sunlight.
Baileys can be enjoyed in hot or cold beverages, and there are many recipes available on the company website.
More About MyPlate
The free LIVESTRONG MyPlate calorie tracker app for iPhone and Android has helped millions of people lose weight the healthy way — by getting support from an active community as they track their eating and exercise. Consistently a top-rated app, MyPlate offers the latest technology in an easy-to-use tool that includes millions of foods and recipes, 5-minute in-app workouts and a robust support community.