As a boxer you must pay far more attention to your diet than the average person. Proper nutrition is not just important, it is critical. You must recover from your training sessions and have the energy to train in the future. Given the demands of lifting, conditioning and sparring, you need to ensure that you are getting every essential nutrient in a timely manner. Consult your physician before beginning any diet or exercise program.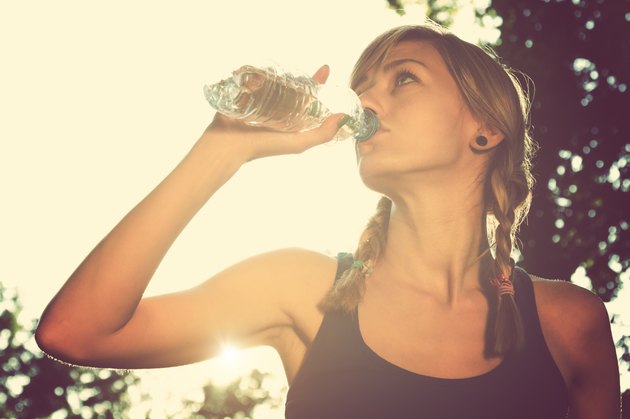 Hydration and Performance
You need to stay hydrated, which is particularly true if you are training multiple times per day. The American Council on Exercise states that maintaining a steady supply of water in your body is pivotal to athletic performance. Avoid sugary sodas and any similar beverages, as you also need your blood sugar levels to stay constant and avoid a possible loss of energy. You do not ever want to be sluggish when someone is trying to hit you. Milk is a good beverage, but drinking it immediately before training may make you sluggish. Otherwise, the protein will serve you well.
Protein Needs
You need protein to recover from training and to maintain lean muscle mass. When you train, whether it is sparring, bag drills, conditioning work or lifting you are breaking down amino acids, which are the building blocks of protein. The only way to replace them is through diet, so you need plenty of protein from quality food sources such as beef, chicken, milk, eggs and fish. An athlete in training may need up to twice as much protein as an inactive person, so you may need protein in between meals. As far as protein supplements go, the official position of the American College of Sports Medicine and the Academy of Nutrition and Dietetics, published in the 2009 issue of "Medicine and Science in Sports and Exercise," is that protein supplementation is not shown to actively improve athletic performance and obtaining protein through diet may be all that is needed.
Carbohydrate Intake
Another effect of training is the depletion of glycogen, or the sugar in your muscles. You need to replace this, as well as give yourself enough energy for the next training session, and the best way to do this is by eating carbohydrates. You should get your carbohydrates from whole grains, fruits and vegetables. Immediately following a workout, you should consume simple sugars to replace the glycogen you have just burned. Having a carbohydrate and protein snack during exercise can enhance your athletic performance, according to a study in the August 2010 "Journal of Strength and Conditioning Research." As your body quickly transports the sugars into your muscles, it will pull some of the amino acids from the protein along with it. You may wish to purchase dextrose and whey protein from a supplement store for this purpose.
Healthy Fats
Your body required dietary fat which it will use to convert to steroidal hormones, including testosterone. If your testosterone levels are low, which can occur in a low fat diet, your ability to recover from exercise will be compromised. This does not mean to eat lard by the bucket, but you need fats to produce hormones as well as protect your joints. You also need essential fatty acids such as omega-3 and omega-6 to regulate your hormone production and healing function, which you can get from fish oil, flax, nuts and seeds.