If you experience pain that radiates down one or both legs, a possible cause may be sciatic nerve impingement. This condition, commonly referred to as "sciatica," occurs when the sciatic nerve that runs from the lower back down the leg becomes restricted. A common cause of sciatica is a herniated disk in the lumbar portion of the spine. The resulting leg pain can be downright debilitating. MayoClinic.com recommends engaging in daily physical activity to help combat the pain associated with sciatic nerve impingement.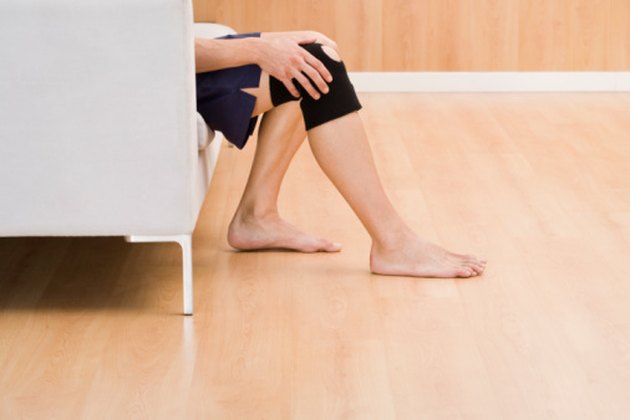 Cat Pose
A common pose in yoga, the cat pose encourages elongation of the spinal column, which can help open up the intervertebral spaces and relieve pressure caused by a herniated disk. To perform this pose, start by getting on your hands and knees. Exhale as you slowly round your spine upward. Hold for 15 to 30 seconds.
Strengthen Your Abs
When your abdominal muscles are weak, the muscles in your back have to pick up the slack. Performing simple crunches three times a week will help get your abs strong enough to take some of the burden off your back. To perform a crunch, lie on your back with your knees bent and feet on the ground. Tighten your abdominal muscles and raise your upper body 3 to 4 inches off the ground. Slowly lower yourself back down. Repeat 15 to 20 times.
Stretch Your Hamstrings
The hamstring muscle group originates near the pelvis. When these muscles are tight, they can cause tugging on the back that can worsen nerve impingement pain. To perform a hamstring stretch, start by sitting on the floor with both legs out straight. Slowly bending forward at the waist, extend your arms and reach your hands toward your toes. Hold for 15 to 30 seconds.
Keep It Moving
Most types of exercise will help ease the pain associated with sciatica due to the increase in blood flow and the release of those feel-good endorphins. Try low-impact exercises such as walking and swimming, and stick to the American Heart Association's recommendation of at least 30 minutes of cardiovascular exercise every day.