Sciatic pain is actually a symptom that results from irritation of the sciatic nerve that runs down the back of both your legs. The irritation and nerve inflammation are caused by different factors and may be mild to nearly debilitating in nature. If you are involved in weight lifting, you will need to use extreme caution to be sure you do not further inflame your sciatic nerve.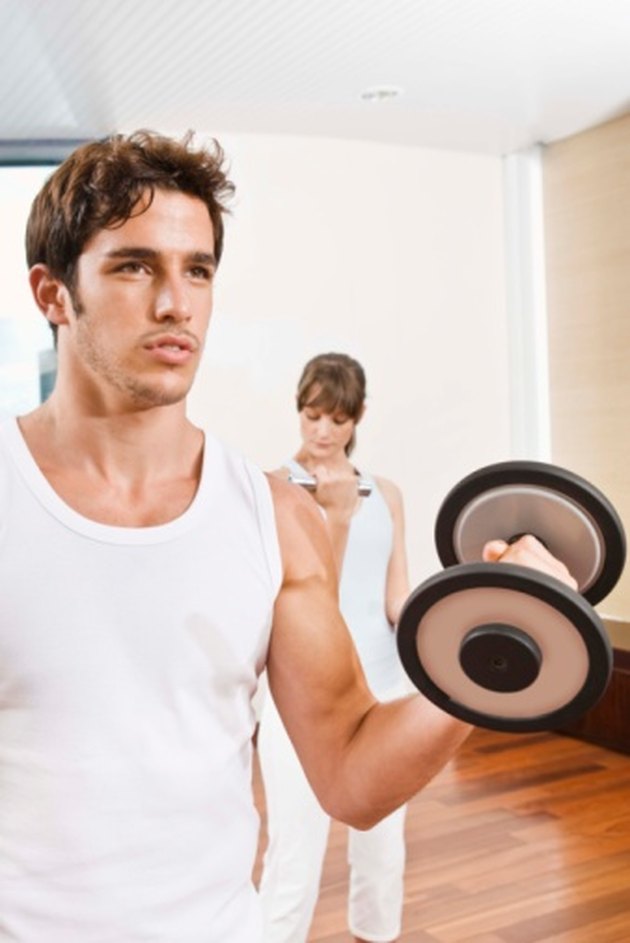 Physiology
The cause of your sciatic pain often dictates which exercises are safe for you. The experts at the Cleveland Clinic suggest that sciatic pain can result from a herniated disk in your spine that exerts pressure on a sciatic nerve root. This is actually the most common cause. Other etiology includes spasms of the piriformis muscle, which lies deep in your buttocks. The tight muscle puts pressure on the sciatic nerve. Another problem is spinal stenosis, or an abnormally narrow spinal canal, which pushes the nerves together. Another condition, called spondylolisthesis, may be the culprit for sciatic pain. This condition is the result of two vertebral disks slipping out of line. This forces the nerve through a narrowed space.
Considerations
Depending on the cause of your sciatic pain, weight lifting that further damages your nerve can be dangerous. Exercise or physical therapy often consists of stretching exercises that help reduce pressure on the sciatic nerve. If your back and abdominal muscles are weak, exercises to strengthen your core muscles can be useful but must be done very carefully. Chronic sciatic pain indicates continued pressure on the nerve. If your sciatic nerve is seriously injured, it can result in muscle weakness.
Core Exercises
Core exercises can help strengthen your abdominal muscles, which can help reduce the amount of stress encountered by your back muscles. Avoid crunches or situps performed with your legs straight out -- this exacerbates your back pain. Bend your knees when performing any of these exercises. Do not add weight to your routine until your pain improves. Since core exercises are recommended to help reduce pain, it makes sense to know the cause of your condition. Once you know that, you are better able to determine which exercises might be best for you.
Upper Body
Do not perform bent-over rowing with weights, because this stresses your back. Also, avoid lifting weights over your head; this includes an overhead press or a shoulder press. Both of these exercises put stress on your spine and can further damage a herniated or slipped disk. If weight lifting has been suggested as an exercise to help strengthen your muscles, and you are a beginner, seek guidance from a professional. See your healthcare provider who can recommend a physical therapist or trainer. She will determine which weight-lifting exercises are compatible with the condition causing your sciatic pain.