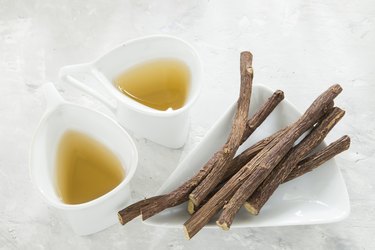 Licorice tea has historically been used to treat a number of different conditions, from upset stomach to upper respiratory issues. However, it can also have significant negative side effects.
Tip
Although more research is needed to confirm the health benefits of licorice tea, it is purported to be beneficial for heartburn, eczema and conditions that affect the digestive system. However, it also has negative side effects.
"Real" Licorice Tea
Many products sold as licorice teas do not actually contain any licorice extracts, but are rather merely licorice flavored. If you have been told by a health professional to use licorice tea to treat a health condition, first ensure that the tea is derived from licorice root, which contains the active constituents of licorice.
Licorice root products — such as licorice tea —should not be used for a prolonged periods of time without consulting a doctor. Licorice side effects can include interactions with prescription medications.
Potential Licorice Benefits
Despite lack of research, there are many purported licorice benefits. Licorice root tea is commonly used to soothe upset stomach and heartburn. Licorice that is applied to the skin might also be beneficial in the treatment of eczema.
Licorice tea is a popular herbal treatment for symptoms of the common cold and flu. It has also been reported (but again, not confirmed) to be beneficial for conditions including canker sores, psoriasis, high cholesterol, arthritis, cancer pain, muscle cramps, irritable bowel syndrome, according to Michigan Medicine.
Know the Dangers
Before you consume licorice tea, it is important to understand the potential dangers of licorice root extracts. According to a study published in July 2015 by Oman Medical Journal, pregnant women should never use licorice products, as they increase the risk of miscarriage and preterm labor. Licorice can also be dangerous for small children and should never be given to babies or used by nursing mothers.
Licorice side effects can also impact the cardiovascular system; it can raise blood pressure, increase water retention and increase risk of heart failure, as explained by Michigan Medicine.
Be Aware of Other Sources
According to an article published in August 2012 by Endocrinology and Metabolism, licorice is used as a sweetener in herbal medicines, snack, soft drinks, chewing gum, beers, tobacco products and other food products. It is also a thirst quencher, which can lead to increased consumption, particularly in warmer climates.
As is the case with too much licorice tea intake, excessive consumption of licorice in other sources can also lead to muscle weakness and hypokalemia — low potassium levels. Be sure to notify your doctor if you consume licorice tea or other products containing this substance.