Licorice root teas have been traditionally used to treat a number of different conditions, from upset stomach to the common cold. True licorice root teas contain a bioactive compound called glycyrrhizin that can have both good and bad effects on human health. If your doctor advises you to drink licorice tea, ask her if you should choose a type with or without glycyrrhizin. Licorice root products such as licorice tea should not be used for a prolonged period of time as they can have side effects and interact with prescription medications. Licorice teas should never be given to young children, infants or toddlers.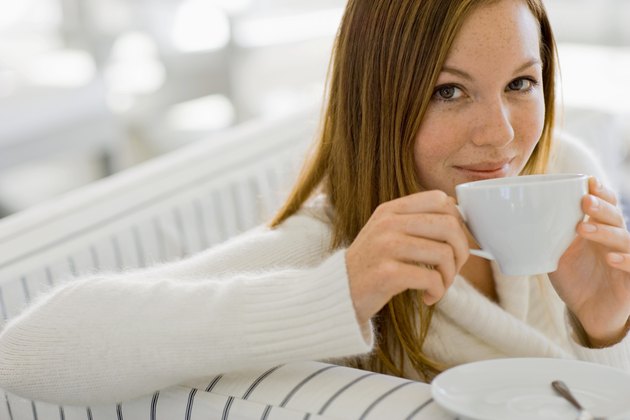 True Licorice Tea
Many products sold as licorice teas do not actually contain any licorice extracts but are rather merely licorice flavored. If you have been told by a health professional to use licorice tea to treat a health condition, first ensure that the tea is derived from licorice root, which contains the active constituents of licorice. The University of Michigan Health System provides a simple recipe for preparing true licorice tea from licorice root. Boil half an ounce of licorice root in 1 pint of water for 15 minutes. Do not use licorice root tea for a period of more than two weeks without the close supervision of a physician.
Licorice Tea For Stomach Problems
Licorice root tea is commonly used to soothe upset stomach and heartburn. Tea made from licorice liquid extracts may also be an effective treatment for stomach ulcers. One research study cited by the University of Maryland Medical Center found that licorice root extracts eliminated or partially relieved peptic ulcers in 90 percent of the study's participants.
Cold and Flu Relief
Licorice tea is a popular herbal treatment for symptoms of the common cold and flu. According to the National Center for Complementary and Alternative Medicine, many people use licorice tea to relieve a sore throat. While there are many anecdotal stories about licorice tea being an effective treatment for coughs and colds, there is actually little scientific evidence demonstrating the efficacy of licorice in cold relief. Children with body weights above 50 pounds can drink 1/3 a cup of licorice tea three times a day for sore throat treatment. Licorice tea should never be given to children who weigh less than 50 pounds or to infants.
Licorice Tea Dangers
Before you use licorice tea, it is important to understand the potential dangers of licorice root extracts. MedlinePlus warns that pregnant women should never use licorice products, as they increase the risk of miscarriage. Licorice can also be dangerous for small children and should never be given to babies or used by nursing mothers. Licorice has a number of potentially adverse effects on the cardiovascular system; it can raise blood pressure, increase water retention and increase risk of heart failure. Hormonal effects of licorice may lead to erectile dysfunction in men and worsen hormone-sensitive cancers such as prostate or breast cancer. Licorice extracts also interact with many prescription drugs. Consult a physician before using any licorice products.