A pulled groin, also known as a strained groin, occurs when the adductor muscles along the inner thighs are torn or partially torn, according to New York University. Adductor muscles start in the groin and run along the inside of your thigh, attaching to the inside of your knee. You might experience pain, tenderness or stiffness because of a pulled groin. Adductor muscles might become weaker. Don't use yoga to power through groin pain; instead, rely on gentle stretches to help regain flexibility and strength in this area.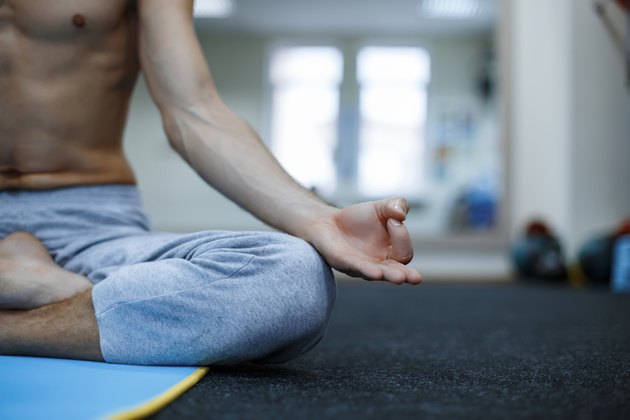 Wide-Legged Forward Bend
This posture can create a welcome stretch through the inner thighs, alleviating stiffness in the groin area. However, because you might be feeling sensitive or tender because of the pulled groin, begin by supporting your body with a bolster or firm pillow beneath your hips. This will elevate your torso, reducing the intensity of the stretch. Once seated, extend both legs directly in front of you and then cautiously begin sliding your legs outward in a V shape. You should feel a gentle stretch through the groin. Sit up straight, and then use your arms and torso to crawl toward one leg or the other; you can also tiptoe your fingers forward directly in front of you. Resting your forehead on another bolster, block or pillow will decrease intensity through the groin and low back.
Butterfly Pose and the Groin
Seated butterfly pose can also create a gentle stretch through your adductor muscles, according to "Yoga Journal." To achieve this pose, begin by sitting on a bolster or pillow to elevate your torso and decrease pressure through the groin. Slowly bend your knees and bring the soles of your feet together, allowing your knees to slightly drop toward the floor. Grasp your feet and sit up straight, breathing for five counts. If the stretch feels too intense, don't work your knees toward the floor. Instead, allow them to hover naturally. Over time, as your pulled groin heals, your knees will drop lower for a greater stretch.
Standing Straddle Pose
In this yoga pose, stand with your legs about 3 feet apart, adjusted for your height and the degree of stretch you'd like to achieve. Your toes should be pointed slightly inward; your heels are slightly outward. Place both hands on your hips, and slowly hinge forward until your hands reach the floor. Rest with your torso inverted, breathing slowly and allowing your adductors and hips to slowly stretch. If the stretch feels too intense for your pulled groin, carefully heel-toe your feet slightly closer together.
Listen to Your Body
Pay close attention to your body when returning to yoga after an injury, according to "Yoga Journal." If you're experiencing pain, sensitivity or tenderness in your adductor muscles during yoga class, back away from the pose and alert your instructor. Pushing through pain in an attempt to achieve your former flexibility could result in worsening the injury.