Noni is an evergreen shrub native to the tropical regions of Southeast Asia and Polynesia. Its fruit is yellow-green and mango-sized. Noni fruit has a bitter taste and is most commonly juiced and marketed as a general health tonic with some manufacturers making unsubstantiated health claims about it. However, noni is high in antioxidants, fiber and potassium, making it a healthy addition to your diet. You can prepare noni juice and consume it raw.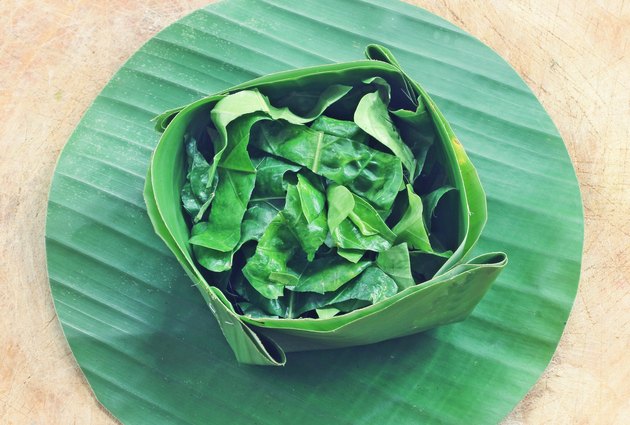 Juicing
Step 1
Peel the skin of the six noni fruits with a knife. Cut into small chunks and place them in a bowl. This will be enough to make 8 oz. of juice.
Step 2
Add the chunks of noni to the chute of the cold-press juicer. Place a cup under the spout of the juicer to collect the juice as it flows out. Cold-press juicers don't use heat to extract juice, which keeps the nutrient profile of the juice intact.
Step 3
Squeeze the juice of one lemon into your serving of noni juice. This will help conceal the noni juice's natural bitter flavor. Drink immediately.
Raw
Step 1
Peel the skin of the noni fruit with a knife. Noni is ripe when the skin is bright green and prickly.
Step 2
Add a 1/3 of noni fruit to a serving of yogurt or oatmeal, for example, to eat for breakfast.
Step 3
Stir fry 1/2 cup of chopped noni with onions, spinach, tomatoes and coconut. Pour the stir fry over rice.
Step 4
Add 1/3 cup of noni chunks to a protein shake and blend on high for 30 seconds.
Things You'll Need
Six noni fruit

Knife

Bowl

Cold-press juicer

Cup

Lemons

Blender
Warning
Noni is high in potassium. Those on a potassium-restricted diet should avoid consuming noni fruit.