Arizona-based Isagenix International makes a range of weight loss and health products, including protein shakes. Containing high-quality whey protein, vitamins and minerals, the shakes give you a convenient post-workout meal option, and they can also be used as a snack or meal replacement to help you stick to your diet. While the shakes are generally safe, any food or diet supplement -- including Isagenix shakes -- has the potential to cause side effects if you're sensitive to one or more of the ingredients. Always check the nutrition label before purchasing, and talk to your doctor about whether protein shakes, like those made by Isagenix, are safe for you.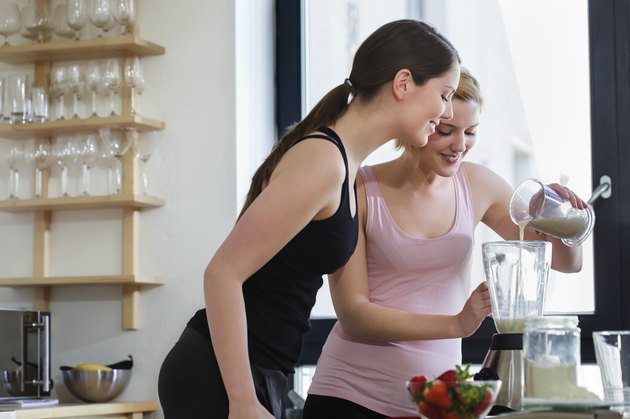 What's in Your Isagenix Shake?
Unlike most protein powders -- which are packed with protein, but not much else -- Isagenix shakes have a nutritional profile that makes them suitable as an occasional meal replacement. The shakes include whey protein, a complete milk-derived protein that your body absorbs quickly, so you'll get all the amino acids you need to support tissue growth. Isagenix shakes also supply a moderate amount of carbs for energy, and provide 23 essential vitamins and minerals, including B-complex vitamins, calcium, vitamin D, vitamin A and vitamin C.
While different Isagenix shakes feature similar ingredient lists, their specific nutrient contents differ a little. The regular IsaLean shake, for example, supplies 240 calories, 24 grams of carbs and 24 grams of protein. An IsaLean Pro shake -- a weight loss shake designed for athletes -- provides 280 calories, 21 grams of carbs and 36 grams of protein.
Potential Side Effects From Protein
Isagenix shakes provide large amounts of protein -- between 24 and 36 grams of protein per serving, depending on the variety you choose. That's actually a bonus for most people -- you need protein in your diet to support strong muscles, tissue maintenance and growth, and immunity. If you're looking to lose weight, protein can help you reach your goals, because it's filling and might boost your metabolism.
Taking in too much protein, though, might cause unwanted side effects. Your body can only absorb so much protein at a time -- up to 10 grams an hour. So loading up on high-protein foods or protein shakes throughout the day might "overload" your system with protein, causing gastrointestinal issues like diarrhea.
And if you need to limit dietary protein -- for example, if you have kidney disease -- a relatively high-protein shake like Isagenix might not be safe, because the high protein content increases the strain on your kidneys. Drinking several high-protein shakes each day -- to the point that you're following a high-protein, low-carb diet -- might also increase the risk of osteoporosis, even if you don't have an underlying health issue.
These possible side effects apply to any protein supplement or high protein diet, though -- they're not a risk specific to Isagenix shakes.
Side Effects From Allergens or Lactose
Regular Isagenix shakes contain whey isolate, milk protein isolate and powdered milk, so they're not appropriate if you have a milk sensitivity or allergy. While milk allergies don't typically cause deadly symptoms, milk might cause nausea or other digestive issues, or negatively affect your breathing if you're allergic to milk components. And because the shakes contain powdered milk, they're also a source of lactose, which could cause issues if you're lactose intolerant.
If you're following a dairy-free diet, opt for the dairy-free IsaLean Shake to avoid side effects. It features a mixture of pea and hemp proteins for a milk-free and vegan-friendly shake. However, this variety contains almonds, so it's not appropriate if you have a tree nut allergy.
Other Considerations
Unless you have an underlying health condition, drinking Isagenix shakes as part of a balanced diet -- after checking with your doctor -- isn't likely to cause major side effects. However, if you're drinking Isagenix shakes as replacements for every meal, you may be setting yourself up for weight gain. Using premade shakes to replace every meal means you're not developing the skills you'll need to make delicious healthy foods at home.
Get the best results from your Isagenix shakes by using them as a supplement to a healthy diet. For example, enjoy a shake in the morning if you don't have time for breakfast, or drink half a shake as a snack instead of hitting the vending machine. That way you enjoy all the benefits of Isagenix shakes and still follow a balanced, healthy lifestyle.