Both pea and whey powders are dietary supplements designed to provide significant amounts of protein in a convenient, low-calorie package. More scientific studies have been conducted on whey powder than on pea powder, and the two do have notable differences, but both are valid options as meal replacements or as strength-training supplements.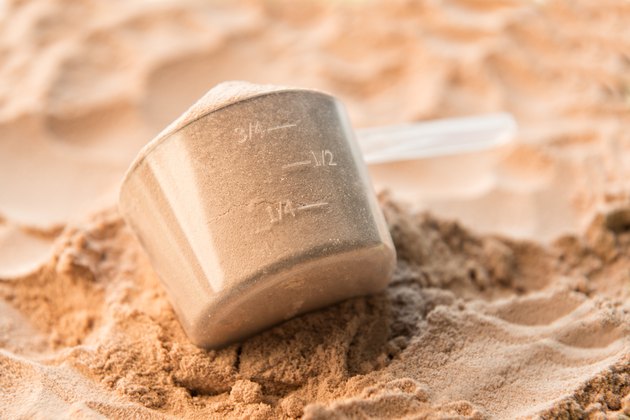 Nutrition Information
Pea and whey powders come in concentrate and isolate forms. Concentrate powders usually contain at least 70 percent protein, but isolate powders contain more, up to 95 percent protein. Some powders contain a mixture of concentrate and isolate. A typical serving of powder ranges from about 25 to 40 grams, and most powders come with a plastic scoop that serves about 30 grams. In that amount of whey protein, there are 110 calories, 2 grams of fat and 23 grams of protein. A 33-gram scoop of pea protein powder has 130 calories, 2 grams of fat and 28 grams of protein.
Protein Sources
One primary difference between whey and pea powders is that whey is a "complete" protein, meaning that it contains all essential amino acids, and pea is an incomplete protein. Whey is a byproduct of cheese-making, so it is a type of animal protein as well as a dairy product -- and all animal proteins are complete. As a plant-based protein, pea powder is a suitable choice for vegans, but it's missing some essential amino acids, so it's not appropriate to use as the primary source of protein in your diet.
All About Whey Powder
Whey is a "fast-acting" protein, according to the National Strength and Conditioning Association, which means that the body digests it quickly and easily. That makes whey especially beneficial for stimulating muscle growth and development, in conjunction with regular strength training. Whey can also help improve body composition. In 2011, "The Journal of Nutrition" published the results of a study in which overweight adults who supplemented their regular diets with whey experienced body fat loss and waist circumference reductions over a 23-week trial period.
All About Pea Powder
If you have an allergy or intolerance to dairy, pea protein is a healthy alternative to whey powder. Because it's a "slow-digesting" protein, it may be able to keep you full longer than whey does and it may also help you combat cravings more effectively. In fact, in a study published in 2011 in "Nutrition Journal," researchers discovered that subjects who drank pea protein powder before a meal ate significantly fewer calories at the meal than subjects who drank whey protein before eating.