When your yogurt sprouts green hairy mold, it's rather obvious that it's no longer safe for consumption. But the probiotic microorganisms that dwell within fermented milk products such as yogurt can lose their viability even before the telltale signs of yuck are apparent. Probiotics are friendly bacteria that are present in foods such as yogurt. Probiotics are also sold as supplements. If you use probiotics, it's important to understand their expiration dates.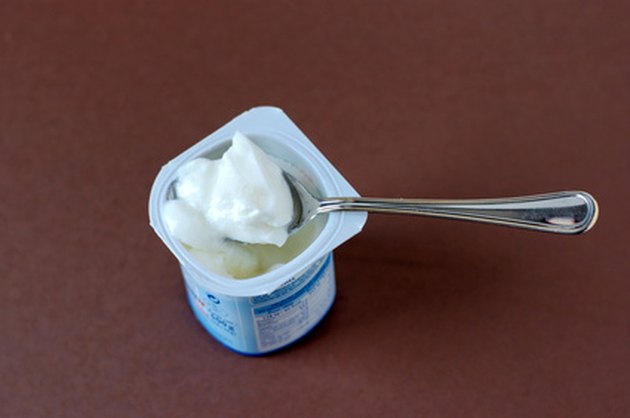 Probiotics Defined
Probiotics are beneficial bacteria and yeasts that naturally occupy your gastrointestinal tract. In return for the right to shack up in your gut, they help maintain the health of your digestive system by helping with the digestion of lactose and fending off invasion by harmful pathogens that could otherwise colonize your intestines. If your internal population of probiotic organisms has been disrupted, consuming live probiotic bacteria may help restore healthy intestinal flora.
Probiotic Sources
Elie Metchnikov was on to something when he noticed the old ages typically reached by Bulgarian peasants. The Nobel laureate went on to attribute Bulgarian longevity to the vast amounts of yogurt consumed by that group, thus earning himself recognition as the grandfather of modern probiotics, according to Kingsley C. Anukam of the Canadian Research and Development Center for Probiotics. Probiotic microorganisms are useful in creating fermented milk products such as yogurt, cultured buttermilk and kefir. Some manufacturers are beginning to fortify their products with probiotics.
Probiotics are Alive
Buying yogurt is no guarantee that you'll receive probiotic benefits. In some cases, products created via probiotic fermentation are then pasteurized, a heating process that kills probiotic bacteria and render void their beneficial effects. To do their good deeds, probiotics have to enter your body while still alive. As Laura Johannes notes in the "Wall Street Journal" in January 2009, monitoring the expiration date on probiotic products is especially crucial in ensuring that your probiotic microbes are still alive and kicking.
Reading Supplement Labels
Probiotic expert Mary Ellen Sanders, Ph.D., explains several aspects of probiotic labeling that you should consider. First, the label should list the type of probiotic organism that the product contains, because there are a wide variety of different probiotic species, each with its own unique effects. The label will also inform you about dosing, which in the case of probiotics is listed according to the number of live microbes, also referred to as colony forming units. One of the most important aspects of probiotic labeling is the expiration date, which will help you determine the likelihood that your probiotics remain alive. Also, read the label for proper storage instructions, because storing your probiotics correctly will help preserve their life span.