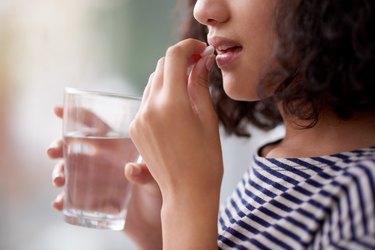 Instead of synthetic ingredients crafted in a lab, whole-food vitamins are made with "condensed fruits, vegetables and other whole foods," says Mascha Davis, RDN.
That is, they don't really have anything to do with your local Whole Foods grocery store — although you may very well find yourself purchasing them there.
"The term 'whole-food vitamin' can mean several different things," says Kara Collier, RDN, CNSC, vice president of health at NutriSense. "They're typically made from dried powders of fruits and vegetables, but sometimes include herbs and grasses, which are rich in plant nutrients."
Pros and Cons of Whole-Food Vitamins
Before you start shopping, consider all of the pros and cons of whole-food vitamins.
‌They May Be Easier for You to Absorb‌
The biggest potential advantage of whole-food vitamins is that your body may absorb the nutrients better than from a synthetic vitamin.
"Whole-food vitamins may be more bioavailable, meaning your body recognizes and can use them right away," Davis says. That is, it may be easier for your body to absorb nutrients coming from a whole food than a synthetic source.
"Although they may not contain therapeutic amounts in all cases, another benefit of a whole-food vitamin is that a specific nutrient has not been isolated (such as with synthetic vitamins), so we're taking in the nutrients as nature intended — as part of our food," Collier says.
It's very likely that you'll pay a higher price for a whole-food vitamin. They're less shelf-stable and synthetic options are cheaper to make, Davis says.
‌They Often Have Lower Amounts of Key Nutrients‌
You may notice that some whole-food vitamins have a significantly lower amount of certain nutrients than their synthetic counterparts. "One drawback is that they don't usually include very high amounts of vitamins and minerals and are typically below the Recommended Dietary Allowance (RDA)," Collier says.
This makes whole-food vitamins a poor fit if you have serious nutritional deficiencies or a condition that requires you to take high amounts of vitamins and minerals, Collier says.
Tip
You should aim to meet most of your nutritional needs through the foods you eat. "Don't rely on supplements for all your nutrients — use them to fill in gaps and optimize your overall nutrition," Davis says.
We also looked at an analysis of supplements made with whole foods done by ConsumerLab, an independent organization that tests and reports on the quality of health products.
Keep scrolling for whole-food vitamins you should consider.
1. Garden of Life MyKind Organics Multivitamins
Multivitamins from Garden of Life are only made with food-derived ingredients (with one potential exception), according to ConsumerLab. These multivitamins are also certified organic, and the ingredients come from an impressively wide variety of fruits, vegetables and herbs.
Along with other certifications, Garden of Life has earned the NSF Certified for Sport mark, which means it does not contain substances banned by athletic organizations.
2. New Chapter Multivitamins
Supplements from New Chapter all come with an NSF-certified label on them. The company prioritizes both sustainability and organic ingredients, and their whole-food vitamins are made from real fruits, veggies and herbs, according to their website.
New Chapter offers a variety of multivitamins per your unique needs based on your age and sex assigned at birth.
3. Kirkland Organic Whole-Food Multivitamin
Kirkland is the house brand for Costco, but supplements from this top vitamin brand are available at other retailers as well — that is, you can purchase them without a Costco membership.
Along with being certified organic, this Kirkland Multi is free from synthetic vitamins. Plus, it's vegan and gluten-free, per the Kirkland website.
Davis is a brand ambassador for Pure Synergy, a certified B-corporation committed to extensive testing to ensure quality. B certification requires that companies (and their products) meet social sustainability and environmental performance standards and that they are accountable and transparent to the public.
Specifically, Davis points out Pure Synergy products are tested to ensure they do not have heavy metals or GMOs. "They also test the bioavailability of the beneficial nutrients in their products [which many brands don't do]," Davis says.
5. Innate Response Formulas Multivitamins
Collier recommends products from this brand for people looking for whole-food supplements that are rigorously third party-tested. "They are non-GMO, certified vegan, certified glyphosate-free, kosher, gluten-free and tested for 125 herbicides and pesticides," she says.
Innate Response products may be a good fit for people who aren't eating a lot of nutrient-dense foods.
These whole-food multis from Wholesome Wellness, a Certified B Corp, are USP-verified and third party-tested for quality.
They provide more than 100 percent of your daily value for vitamins A, C, D2, E, B vitamins and more, as well as minerals such as immune-supporting zinc. It also contains organic spirulina and chlorella, two antioxidant-rich algae greens. We also love that this pick has digestive enzymes to help you better absorb the nutrients in this multi. Just keep in mind that the serving size is four tablets a day.
What to Consider Before Buying Whole-Food Vitamins
There's scant regulation over supplements — manufacturers are free to make bold claims, even without substantiation. And sometimes, the contents listed on the label do not match what's in the supplement.
That said, it's important to be thoughtful before making a purchase. Here's what to keep in mind before you buy.
It's important to consult your doctor before starting a new supplement. "I always recommend that people talk to their primary care doctor and/or dietitian about what type of vitamin they believe they need and why," Davis says.
This is important because supplements have the potential to interact with other medications and can even contribute to health issues.
Third-Party Certification
Look for certification from organizations such as NFP and USP, which you can typically find on product labels or on the company's website. "When you see them, you can be sure what you are buying is what you see on the label and that the product has met high-quality standards," Davis says.
You're likely scanning the ingredient list if you're purchasing a whole-food vitamin. Keep an eye out for any ingredients that you should avoid due to allergies or dietary choices.
Finally, look to the label to determine if a vitamin is actually made with whole foods. "You'll usually see the food used for the specified vitamin in parentheses," Collier says.