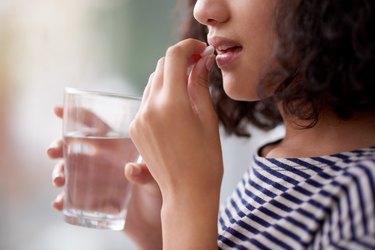 The ingredients in whole food vitamins are from foods in their natural state, including concentrated portions of whole fruits and vegetables, not synthetic extracts. Whole food vitamins benefit the body nutritionally by keeping all the nutrients and vitamins intact. Several whole food vitamins on the market are superior in their bioavailability, quality and content.
Whole food vitamins are better absorbed by your gastrointestinal tract than individual isolate vitamins. Whole food supplements offer a source of nutrition close to the form of their food source, including essential fatty acids, phytonutrients and enzymes to aid digestion. Whole foods contain the proper balance of vitamins and minerals that interact with one another and work in synergy for bioavailability. For example, calcium needs vitamin D to be absorbed.
Many people require extra vitamins to supplement their diet, especially with medical conditions that may impair digestion or absorption of nutrients. People suffering with compromised immune systems, smokers, teenagers, athletes and seniors may also require a supplement. If you don't eat fruits and vegetables or regularly eat junk food, you may also have a vitamin deficiency and could benefit from whole food vitamins.
The best whole food vitamins should meet certain standards for integrity and safety. A good vitamin supplement should be made according to pharmaceutical GMP, or Good Manufacturing Practice, which is the same compliance used by drug manufacturers enforced by the U.S. Food and Drug Administration. The best-rated vitamins should be labeled with the COA, or Certificate of Analysis, evidence of quality control testing. Also look for UPS on the label that ensures standards for strength, purity, disintegration and dissolution established by U.S. Pharmacopeia, according to MayoClinic. If your vitamin adheres to these standards, you know the supplement is a superior product, free from harmful contaminants and containing the actual ingredients listed.
Natural News gives New Chapter its Editor's Choice Award for whole food vitamins for men and women. New Chapter's "Every Man II" line of multivitamins contains organic superfoods and anti-cancer elements such as turmeric, ginger and selenium. The "Every Women" line is geared toward nutritional needs of women. Also a top pick with BestMultivitamins.net, New Chapter contains food ingredients derived from USDA organic whole foods and herbs, cultured in non-genetically modified organism soy with probiotics. The vitamin coating is made from non-GMO corn. New Chapter's extraction process of whole herbs does not use chemical solvents, as many other multivitamin brands do.
​Buy it​: Amazon; ​Price​: $41.92
Garden of Life makes a diverse line of food-created vitamins called Vitamin Code. The Garden of Life "Living Multi" products with probiotic microorganisms and enzymes are available in men's, women's and an Optimal Formula, which contain superfood ingredients including more than 80 different fruits, vegetables, herbs, spices and organic extracts. Garden Life founder and chairman Jordan Rubin says the company's vitamins include all the cofactors that benefit the body.
​Buy it​: Amazon; ​Price​: $31.51
Xtend-Life Natural Products manufactures high-quality supplements that meet both British and U.S. Pharmacopeia standards. Its signature "Total Balance" whole food vitamin supplement consists of 99 nutrients. To ensure that nutrients from the potent raw food ingredients are properly absorbed, Xtend-Life has a four-stage delivery system. The Xtend-Life's vitamin's enteric coating prevents damage by stomach acid. The company stands behind its product and offers a six-month, money-back guarantee.
​Buy it​: Amazon; ​Price​: $58.50