Millions of people in the United States take vitamin and mineral supplements to ward off colds, flu, diseases and to improve their overall health. Some supplements, especially calcium, iron and Vitamin C in high doses, can lead to stomach upset, gas and diarrhea. Individuals with sensitive stomachs may be more apt to experience digestive discomfort when taking dietary supplements. Fortunately, there are vitamins created specifically for individuals with a touchy tummy.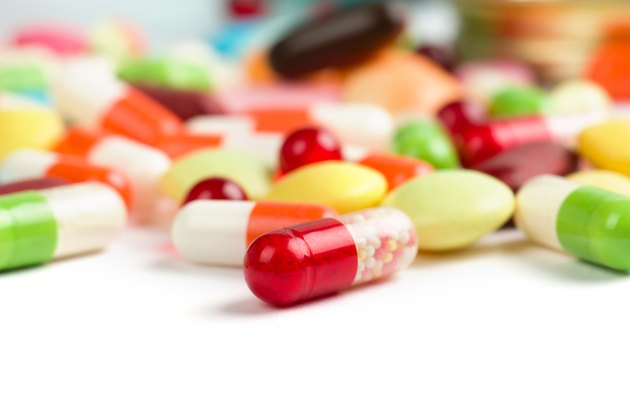 Rainbow Light Vitamins
Makers of Rainbow Light say that its brand of food-based vitamins is ideal for people with easily upset stomachs. According to the vitamin makers, the digestive enzymes, botanicals and probiotics contained in its vitamins make them gentler on the stomach. Probiotics are desirable bacteria much like those found naturally in your body. Experts at the Mayo Clinic say that probiotics may help treat diarrhea and irritable bowel syndrome.
Doctors Choice Vitamins
According to the makers of Doctor's Choice Sensitive Stomach vitamins, its products are designed to reduce gastrointestinal discomfort that can occur when taking nutritional supplements. The Doctors Choice formula enhances the absorption of vitamins and minerals.
Liquid Vitamins
Liquid vitamins are promoted as being gentler on the stomach than pills or capsules. According to Active Liquid Wellness, vitamins in liquid form are more easily absorbed by the body. Eniva's Vibe is one example of a liquid multivitamin.
Slow Release Iron Supplements
Iron supplements are known for causing abdominal upset. If you must take iron pills during pregnancy or to treat anemia, the American Academy of Family Physicians reports that you can reduce stomach discomfort if you take the pills with food. Slow-release iron products, such as Slo-Fe and GNC A-Z Time Release Iron, may also help reduce abdominal discomfort.