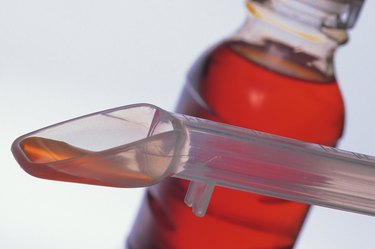 Many different forms of vitamin supplements are available on the market today. Among all of the pills, capsules and tablets, liquid multivitamins are often found. Readily digested by the body, liquid multivitamins do not require as much breaking down as other forms of supplements. When it comes to quality and nutrition, several brands stand out among the others.
Nature's Plus Source of Life Liquid Multivitamin
Created from whole-food sources, this liquid multivitamin is free of gluten, milk, yeast, soy, corn and other common allergens. Along with vitamins and minerals, this supplement also contains several known "super foods," such as bee pollen, chlorophyll and flaxseed. Additionally, Nature's Plus has included ginseng and PABA, or para-aminobenzoic acid, to help increase energy and concentration. PABA is often referred to as vitamin Bx for its relation to folic acid, but it is not considered a vitamin at this time.
​​Buy it:​​ Amazon; ​​Price:​​ $47.35
Nature's Way Alive Liquid Multi
Another liquid multivitamin that is only derived from natural sources, Alive Liquid Multi is suitable for vegetarians and contains no artificial sweeteners, colors or flavorings. Along with a vitamin, mineral and antioxidant blend, this supplement also contains several different mushroom extracts and digestive enzymes. This liquid multivitamin does not contain lactose, wheat or yeast.
​​Buy it:​​ Amazon; ​​Price:​​ $27.99
Century Systems Miracle 2000 Total Body Nutrition
Similar to some of the other liquid multivitamins, this formulation contains vitamins, minerals, amino acids, antioxidants and aloe vera juice. Century Systems recommends taking one capful per 100 lbs. of body weight for optimal energy, and to mix the liquid with juice when consuming. This vitamin also contains a mixture of herbs, such as licorice, echinacea root, garlic, ginko biloba and other ingredients for health benefits.
​​Buy it:​​ Amazon; ​​Price:​​ $33.99