Muscle building supplements often get a reputation for bad side effects. Anecdotal claims on the Internet and in the media are widespread and confusing. Any supplement that is misused or abused can cause harmful side effects. For example, even too much Vitamin C can cause severe diarrhea. However, that does not mean that Vitamin C is generally harmful or to be avoided. Testosterone boosters, creatine, pre-workout supplements and fat burners are often associated with bad side effects.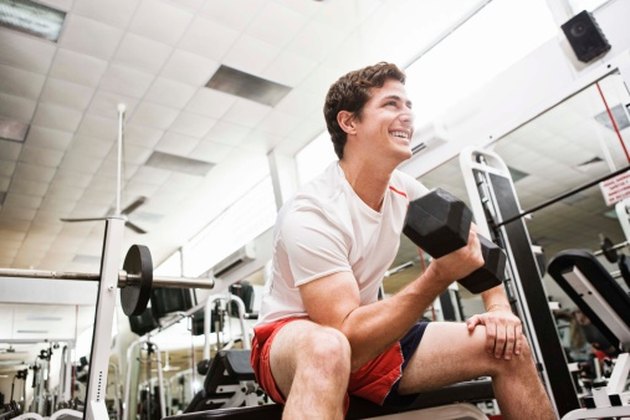 Testosterone Boosters
Testosterone is the master hormone for building muscle. Even a minor increase in testosterone levels can lead to significant increases in muscle mass, as well as decreases in body fat. There are two ways to boost testosterone--with natural herbal compounds or with pharmaceutical means. Anabolic steroids and pro-hormones, both legal and illegal, are effective for boosting testosterone. However, they often carry many bad side effects. Hair loss, prostate enlargement, gynecomastia, acne, testicular atrophy and increased estrogen levels are all common side effects of these supplements. The natural means of boosting testosterone involves using certain herbs such as tribulus terrestris, longjack, fenugreek extracts, avena sativa, safed musli and others. These herbs have natural anabolic properties that act to unbind bound testosterone and/or increase the amount of luteninzing hormone and testosterone produced in the body. While all of the mentioned side effects are much less dramatic with these natural products, they can still occur. An increase in total free testosterone can increase its conversion into DHT and estrogen, hormones responsible for the bad side effects. Two popular natural testosterone boosters, Novedex XT and 6-OXO, were shown to increase DHT production by 566 and 265 percent, respectively.
The Real Natural Anabolics
Jerry Brainum's book "Natural Anabolics" discusses three natural anabolic substances--creatine, arginine and beta-alanine. Each can carry its own side effects, depending on its use. Often maligned for several side effects, creatine is a natural substance used in the body to make ATP or energy. Anecdotal side effects include stomach cramps and muscle cramps, nausea, diarrhea, weight gain, kidney stress and dehydration. Actual research, however, refutes these anecdotal claims. Brainum argues that the negative side effects are the result of misuse of creatine. The practice of loading creatine in high doses without drinking adequate water can cause some of these effects. He goes on to say that none of the side effects have shown up in clinical trials where creatine was properly administered. Further, a 1998 study by Jacque R. Poortmans and Marc Francaux showed that "Long-term Oral Creatine Supplementation Does Not Impair Renal Function in Healthy Athletes." Arginine use is commonly regarded as safe in high doses; however, those infected with any form of the herpes virus will want to avoid it. Arginine can bring on cold sores or herpes outbreaks. Beta-alanine causes a harmless tingling sensation at the surface of the skin, resembling the flushing associated with high Vitamin B-3 or niacin dosage. The side effect is harmless, but it can be irritating to some users.
Pre-Workout and Fat Burning Supplements
Pre-workout supplements and fat burners are common allies in the quest to build muscle. However, they often carry large doses of caffeine and other stimulants. Examples include pre-workout supplements, such as NO-Xplode and fat burners like Lipo 6. The Mayo Clinic reports that stimulant side effects can include nervousness, irritability, insomnia, addiction and dependency, heart palpitations and rhythm abnormalities, weight loss, tremors, mild hypertension, hallucinations, convulsions and heart attack. Those with any form of heart disease should not use any stimulant to boost athletic performance. Stimulants, such as caffeine, fool the adrenal glands into cranking out large amounts of adrenaline, effectively producing more energy. Long-term usage can lead to dependence, as the adrenals down-regulate and function poorly without the use of the stimulant. In the proper amounts, stimulant use is safe for most users. Be sure to cycle caffeine use to avoid impairment of adrenal function.