Introduced in 1982, Ferrero Rocher is the most popular chocolate worldwide in its candy category. It's bumpy round shape and unique gold wrapper make Ferrero Rocher stand out from all other chocolates on the shelf. Although high in fat, the chocolate treat contains some nutrition from its nut and milk chocolate content.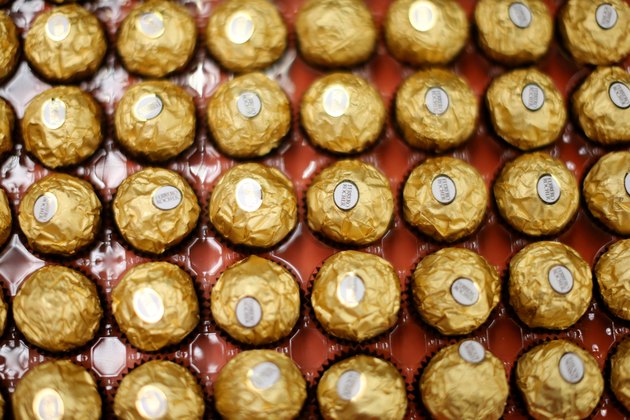 Identification
Ferrero Rocher candy contains a whole hazelnut surrounded by a chocolaty filling containing chopped hazelnuts and a crisp wafer. Other ingredients in Ferrero Rocher include milk chocolate, sugar, modified palm oil, wheat flour, whey, low-fat cocoa, soy lecithin, skim milk powder, sodium bicarbonate, ammonium carbonate, salt and the artificial flavoring vanillin.
Calories
Three pieces, or 38 g, of Ferrero Rocher chocolate contain 220 calories, 140 of which come from fat. This represents 64 percent of the daily value, or DV, based on a 2,000-calorie diet. Adults should get 20 to 35 percent of their total calories from fat. Of the total 15 g of fat, 5 g are saturated fat, which is 25 percent DV. There is no cholesterol in Ferrero Rocher candies.
Carbohydrates
Ferrero Rocher chocolate candy contains 17 g of carbohydrates per three-piece serving, which represents 6 percent DV. Sugar content is 16 g, or 32 percent DV, which is almost 1/3 of the total daily sugar intake recommended by the World Health Organization for good heath. The dietary fiber in one serving amounts to 1 g. The total number of net carbs -- amount of carbohydrates minus fiber and/or sugar alcohols -- is 16.
Nutrients
With 1.6 mg, one serving of Ferrero Rocher candies provides 9 percent DV for iron. It contains 4 g, or 8 percent DV, of protein; 60 mg, or 6 percent DV, of calcium; and .6 mg of vitamin C. The sodium content is 35 mg, which is within a healthy range at 1 percent DV.
Fun Fact
To burn the calories from consuming three pieces of Ferrero Rocher chocolate, you need to play squash for 17 minutes, jump rope for 20 minutes, shovel snow for 32 minutes or do housework for 66 minutes, assuming you weigh 150 lbs., according to caloriegallery.com.