Yoga is a fantastic addition to any weight loss routine. However, if you do not already have a regular yoga practice, the thought can be daunting. The important thing to remember is that weight loss requires dedication and yoga does as well. There are a few things to consider when you choose yoga as a weight loss tool before and after you meet your goal.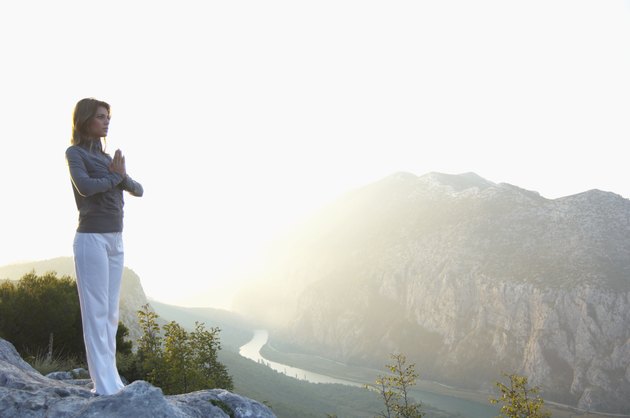 Before You Begin
A yoga class can be intimidating not only if you are a beginner, but also if you are trying to lose weight. The typical yoga student may seem to be the picture of perfect health, but she must work hard to stay in shape, just as you do. The hardest part of integrating yoga into your weight loss routine is getting out of your own way. Stay positive and give yourself the chance of a lifetime.
Tips and Precautions
Sometimes, heavier weight can make yoga poses more challenging. You may find a forward fold is harder for you than the person next to you; or, after 60 minutes, a 90 minute class becomes excruciating. It will take time and dedication for your body to respond fully to your new yoga practice. Be sure to stop when you are in pain, feel winded or become nauseated.
The Importance of Routine
When you develop a routine for your yoga practice, you will see the benefits physically as well as mentally. Try going to a yoga class three to four times a week, depending on your physician's recommendation. Your body will develop muscle memory and it will be more difficult for you to talk yourself out of a yoga session. Eventually, you will gain confidence and a desire to continue pressing yourself toward your weight-loss goal.
After You Reach Your Goal
Yoga practice plus healthy eating habits will naturally result in weight loss. Once you reach your goal, be sure to continue implementing your new way of life. Reaching the goal does not mean abandoning the tools that got you there. Allow yoga to become a lifelong asset to your body's well-being. Take your yoga practice to the next level and explore intermediate and advanced classes. Build strength of body and mind through yoga.
Yoga Styles to Try
Bikram yoga classes last for 90 minutes in heated rooms. This style is physically demanding, but also great for getting into shape. Power yoga classes typically last for 75 minutes in heated rooms. This style is athletic in nature and provides a great cardio workout. Vinyasa classes can last up to 90 minutes, but average around 75 minutes. This style emphasizes moving between postures in time with your breathing to invigorate the cardiovascular system and build strength.