Just as it does during any type of aerobic activity, your heart rate increases when you lift weights. That being said, heart rate is not as good an indicator of how well your weight training workout is going as it is for aerobic exercise. J. Andrew Doyle, Ph.D., of Georgia State University's Department of Kinesiology and Health says you should listen to your body to determine the overall intensity of your weight training workout rather than simply monitoring your heart rate.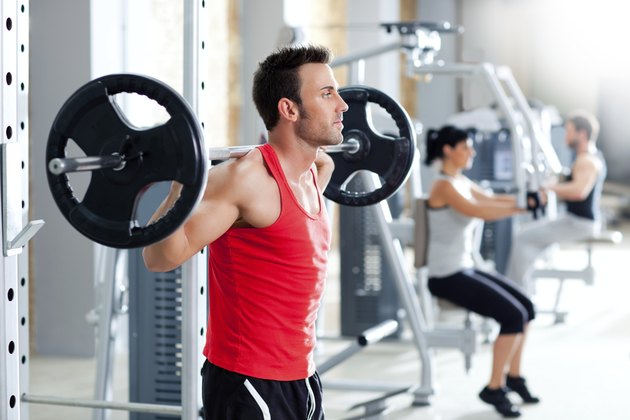 Cardiovascular Benefit
While weight training is not necessarily designed to help improve your cardiovascular system like jogging and cycling does, it can strengthen your heart. As your heart rate increases during your weightlifting sessions, your heart, which is the strongest muscle in your body, is also exercised. A weightlifting workout usually won't provide the sustained increase in heart rate of an aerobic workout, but it will lead to periods of increased heart rate followed by periods of rest between sets.
Target Heart Rate
A simple equation for calculating your maximum heart rate, or MHR, can help you make sure you do not overdo it when you lift weights. Determine your MHR by subtracting your age from 220. For instance, a 30-year-old's MHR is 190 beats per minute. Because weight training has the effect of increasing your heart rate in cycles as you perform a set and then rest, it's unlikely you will exceed your MHR under normal circumstances. If you monitor your heart rate during a workout and notice you are exceeding your MHR, consult your doctor to make sure there are no issues with your cardiovascular system.
Add Aerobic Benefits
If your goal is to lift weights and get an aerobic benefit at the same time, there is an option available to you. Circuit training combines an aerobic and anaerobic workout into one. Choose about 10 different lifting stations, and move from one to the other with little rest in-between; this helps to keep your heart rate at an increased level for the duration of your workout. Do not exceed your MHR to be sure you are not overworking your heart.
Heart Rate Calculator
Use an online heart rate calculator to determine your ideal heart rate, in beats per minute, when you lift weights. Beginners should aim for 50 to 60 percent of their MHR. Use a target heart rate calculator to determine this information, or simply multiply your MHR by 0.5 and 0.6 to determine your ideal heart rate when lifting weights. As you becoming stronger and more physically fit in the weight room, aim to achieve an increased heart rate of 70 to 80 percent of your MHR.