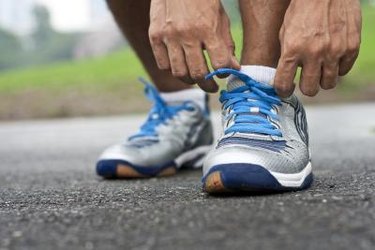 The short answer to whether you can play basketball in running shoes is: Yes, you can. After all, running shoes enable you to move and spring off hard surfaces. However, the real question is whether you should wear running shoes for basketball given the negative impact on comfort, performance and safety. Ultimately, if you want to both run and play basketball with the same shoes, you should opt for a cross-trainer.
Running Shoe Design
Running shoes tend to be lightweight and made of thin material. They're designed to cushion the foot when hitting the floor but to be as as flexible as possible. The best running shoes feel like you're wearing hardly anything at all. The only really useful aspect of running shoe design as far as basketball is concerned is the cushioned sole, but even these are usually light and bendable.
Risks
Using inappropriate footwear for basketball carries risks to your safety. The American Academy of Podiatric Sports Medicine points out that bad shoes can lead to problems in the lower back, leg, hip and, of course, ankle. These issues become more serious the longer you play basketball in running shoes. When you land from a rebound in a crowd of players all scrabbling for the ball, flimsy running shoes could mean you're injured before the end of the quarter.
Basketball Shoe Design
Hold a running shoe next to a basketball shoe and you'll see an obvious difference. While the running shoe is small and light, the basketball shoe is tall, stiff and relatively bulky. The sole is rigid and thick and the ankle high. This is to allow you to perform the regular stops and starts in a basketball game without turning your ankle or putting pressure on your feet.
Considerations
About 68 percent of NBA players use the high-topped shoe style, according to the American Academy of Podiatric Sports Medicine. Only 10 percent use the low style -- though this is still not the same as a running shoe since the sole and sides are stiffer and more durable. If you're worried that a basketball shoe is too bulky for you to play fast, choose a different style of basketball shoe. For example, according to Dick's Sporting Goods you can find heavy power shoes for forward players, lighter all-around shoes for general play and a super-light basketball shoe for faster players and point guards.