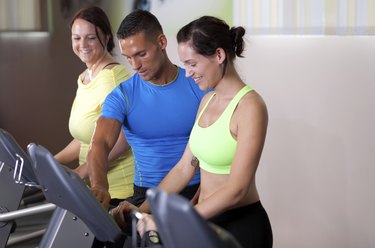 NordicTrack is a company which markets home fitness machines and products. In addition to Treadmills, NordicTrack offers elliptical machines, exercise bikes, skiing machines, training machines and accessories. The company offers a variety of treadmill lines, each with different features, depending on your fitness needs and goals. NordicTrack's treadmills are more expensive than most other brands but are generally considered to be high quality. NordicTrack treadmills have been endorsed by popular fitness trainers, including "The Biggest Loser's" Jillian Michaels.
Weight Limits for Incline Treadmills
NordicTrack's most popular line of treadmills is the Incline treadmill. The Incline series burns five times more calories than any other treadmill NordicTrack offers. The X11i can carry a weight limit up to 375 pounds. The X9i model's weight capacity is 350 pounds, but if you weigh more than 250 pounds, your treadmill will not be able to support you at speeds more than 4 mph from 3 to 6 percent decline. The third and final model in NordicTrack's incline series is the X7i. This model is able to withstand up to 325 pounds.
Weight Limits for Commercial Treadmills
These machines are made with commercial grade steel. You would most likely enjoy a commercial treadmill if you like to run or walk long distances because this machine is designed for durability. There are three models in NordicTrack's line: the 2450, which has the most features, the 2950, a model that entertains you while you exercise, and the 1750, engineered for longevity and durability. All of these treadmills have a weight limit of 400 pounds.
Weight Limits for Elite Home Treadmills
The Elite Home treadmills are designed for serious athletes in training who want to test their abilities consistently. Both machines are made for powerful performances. The 9500 Pro model has a weight capacity up to 375 pounds. The second model in the Elite series is the 9700 Pro, which can handle 400 pounds. The NordicTrack is also used by athletes to train indoors when the weather outdoors isn't suitable and also serves athletes during rehabilitation from injuries.
Weight Limits for C Series
The C series is NordicTrack's line of treadmills that offer both soft and hard decks. The C 970 Pro has the ability to hold up to 350 pounds. Built to endure heavy use, the C 1630 Pro model's weight limit is 375 pounds. If you want a treadmill that is smaller and more compact, the C 600's weight limit is 325 pounds. The C 700 is one of the best options for runners, and it can handle up to 350 pounds.