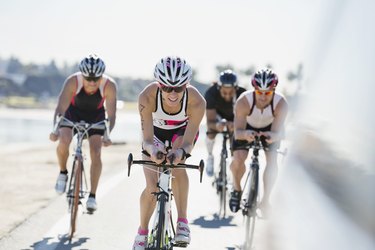 If your daily activities are compromised by damaged knees, often due to injury or various forms of arthritis, you may opt to undergo a total knee replacement, TKR. The American Academy of Orthopaedic Surgeons, or AAOS, explains that, during this surgery, the surgeon will remove damaged cartilage and bone from the knee and position new metal and plastic joint surfaces to restore its alignment and function.
Sometimes, both knees are replaced concurrently. Although recovery time from the surgical procedure ranges anywhere from three to six weeks, full rehabilitation can take several months. Bike riding is one of the recommended activities to pursue after undergoing a total knee replacement.
Cycling After Total Knee Replacement
Early on, the seat can be raised to limit the amount of bending required. You might only be able to do partial revolutions at first, and this is normal. As motion improves, the seat can gradually be lowered.
Cycling for range of motion is performed slowly, pausing at the top to stretch into bending, and at the bottom of the revolution to stretch into extension — a straight-knee position. During the range of motion phase, there is no added resistance on the bike.
Add Some Intensity
Avid exercisers may be accustomed to moderate to high-intensity workouts. However, for patients who have recently undergone a total knee replacement, it is important not to over-exert initially. On a stationary bicycle, you should be seated at a height in which your foot just touches the pedal and there is a slight bend in your knee. In terms of intensity, the AAOS recommends that the resistance should initially be set to "light" and advanced to "heavy" as your strength and comfort level increase.
Take It Outside
Discuss your plans to pursue outdoor cycling with your physical therapist. Although biking outdoors may be comparable to using a stationary bike, there are additional factors, like the model of bicycle and a change of terrain, that you should consider. Your therapist may recommend a certain type of bicycle or maximum gear to use. It may also be advised that you remain on smooth terrain, like asphalt, to prevent any undue stress on the knee during cycling.
Boost Heart Health
Bike riding after total knee replacement surgery offers more than just increased function and maintenance of the joint. Riding a bicycle is a form of cardiovascular exercise, which aids in weight control. Biking also helps restore endurance, which is typically negatively affected by surgery.
Since excess body weight can put extra stress on the knees when standing or walking, maintaining a healthy weight through bike riding can be beneficial. For people with knee replacements, biking also provides a safe alternative to running and jogging, both of which are high-impact activities that could compromise the integrity of the new knee.