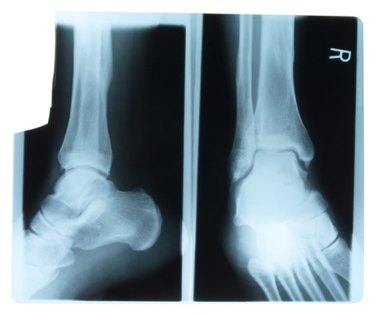 When an ankle joint becomes worn out as the result of injury, arthritis or another medical condition, an ankle fusion is a possible option to reduce pain and allow patients to return to their normal activity levels, including jogging. Ankle fusion is especially suitable for young, active patients. While an ankle fusion limits the motion of your ankle joint, a fusion can help reduce pain and get you back to enjoying your favorite activities.
Ankle Fusion
An ankle fusion removes the surfaces of the ankle joint and allows the rear foot and the tibia -- lower leg bone -- to fuse together. Often, the use of screws is necessary to help these bones grow together. An ankle fusion keeps the ankle joint from moving during walking, jogging, running and other activities. Provided the ankle is not injured or re-injured, an ankle fusion can last a lifetime.
Recovery
Following surgery, your ankle will be placed in a padded cast, either plaster or a soft bandage. You should keep your leg elevated as much as possible to avoid swelling and throbbing. After two weeks, your stitches will be removed and you will be placed in a short-leg fiberglass cast, which will run from below your knee to your toes. During this time, you will not be permitted to bear weight on the ankle; you will need two to three months until the bones are completely fused. Following these instructions carefully will allow for a smooth recovery and a better chance of being able to jog again sooner.
Rehabilitation
After about three months -- it varies from patient to patient -- your doctor will place you into an ankle brace and you will begin physical therapy. The brace will be small, lightweight and fit inside of athletic shoes. A physical therapist will help you to learn to walk smoothly and without a limp and also work with you to help rebuild strength following your surgery. Shoe inserts -- including heel cushions -- can allow you to walk and move more normally. A shoe with a rocker sole -- rounded -- will also allow your foot to roll as you step, making your motion more natural.
Running After Ankle Fusion
Following ankle fusion surgery, your walking gait should return to normal. You will be able to return to a fast majority of activities pain free provided any neighboring joints are not arthritic. You can return to work, walk long distances, exercise and use ladders. Many patients are able to go on short jogs pain free. But because of the reduced motion in your ankle and rear foot, the ability to run following ankle fusion surgery is highly unusual, though not completely unheard of.