Stationary bicycles are simple and inexpensive and allow you to get in a vigorous workout even when the weather outside is cold and snowy. Like other forms of exercise, the main reason for using a stationary bike is to enjoy a number of health benefits. These benefits include improving your cardiovascular health, helping you build muscle and aiding with weight loss.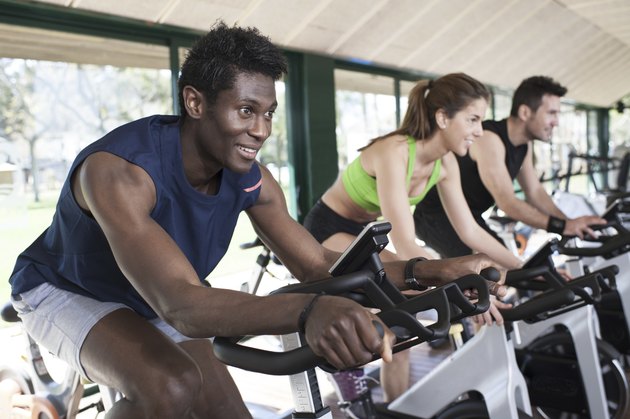 Cardiovascular Fitness
Riding a stationary bicycle is a form of cardiovascular exercise, meaning your heart beats faster and your lungs take in more oxygen. In the short term, the effects you'll feel may include being out of breath or sweating. In the long term, cardiovascular training means your heart becomes stronger and able to pump more blood. You may also be able to take in more oxygen and find it easier to breathe over time. Overall, cardiovascular exercise can reduce your blood pressure, decrease your risk of stroke and reduce your heart disease risk.
Weight Loss
Riding that stationary bicycle also burns calories, which can lead to weight loss. The intensity of your workout as well as your weight can affect how many calories you burn. A 160-pound person will burn about 438 calories per hour cycling at a 10-mile-per-hour pace. A 180-pound person, meanwhile, will burn about 492 calories cycling at that same pace for the same amount of time. Since you need to burn 3,500 calories to lose 1 pound of fat, stationary cycling will help you slim down over a multitude of exercise sessions.
Muscle Toning
Riding a stationary bicycle is not just a cardiovascular exercise -- it's also a resistance exercise, meaning you'll be able to build muscle tone in your lower body, including your legs, butt and hip flexors. The key is to add the right amount of resistance. If you have the tension knob on your bike set to the easiest setting, it's going to be really easy to pedal -- but you won't have enough resistance to help build as much muscle as you would if you were to set the tension knob higher.
Safe Form of Exercise
Stationary bicycles, as the name suggests, don't move. If you're not comfortable or agile enough to ride a moving bicycle around in traffic, the stationary bicycle offers you a chance to exercise your body in a safe environment. Likewise, it offers you a chance to work out when outdoor conditions might not allow it. If you have an upper-body injury or limited mobility, the stationary bicycle may offer you a chance to improve your cardiovascular fitness, lose weight and build muscle, helping improve your overall health in a way you might not have otherwise been able to do.