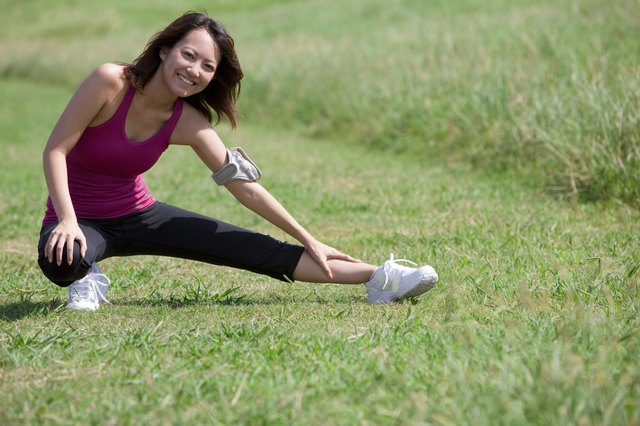 Tight hamstrings don't just make the backs of your thighs ache after a long day sitting in the office -- they can also make your lower back hurt as the tight muscles pull your pelvis, putting strain on your lower back muscles. Increasing the flexibility in your hamstrings requires stretching, and different options exist to help you loosen those tight muscles.
Why Stretching Is Important
Stretching your hamstrings should be part of your daily routine, even if it's a day you're not exercising. Stretching helps keep your hamstrings from getting stiff, which can become more of a problem if your job requires you to sit at a desk most of the day -- the compressed position of the hamstrings can cause them to shorten. If you need a quick stress reliever, stretching can help. It also helps increase your circulation throughout your body, not just in your hamstrings.
Dynamic Stretching
Dynamic stretching uses movement to loosen and warm muscles. This is the best type of stretching to do before you exercise, according to a 2012 article in the "Journal of Strength and Conditioning Research," but it's also helpful on days when you're not hitting the gym. Spend about five minutes warming up your muscles by marching or jogging in place, or go for a quick brisk walk or jog. Perform leg swings to stretch the hamstrings by placing your hand on a wall for balance and swinging one leg forward and backward with your knee straight. Start with low swings and gradually build them higher, continuing for 60 seconds before switching legs. Also, try an inverted hamstring stretch by balancing on one leg with your knee slightly bent. Bend forward at the waist, lifting your other leg straight behind you while keeping your back straight -- your back and leg should make a straight line parallel to the ground. Hold your arms out to your sides for balance as you bend and straighten for 60 seconds on each leg.
Static Techniques
After working out, or after you've performed some dynamic stretches, traditional static stretches help loosen your hamstring muscles. Several options exist to stretch while standing, sitting or lying down. While standing, for example, put your feet together and bend over at the waist, trying to touch your feet with your hands. When seated, straighten your legs in front of you and reach for your feet, or extend one leg and bend the other knee in so your foot touches your extended thigh. Reach toward your extended foot with both hands. To try a lying hamstring stretch, lie next to a doorway or wall corner so that the top of your thighs is even with the corner. Lift the inner leg and prop your foot on the wall. Scoot your body down toward the wall to increase the stretch. Alternatively, lie on your back and lift one straight leg as high as possible, wrapping a towel or exercise strap around the ball of your foot so you can pull and increase the stretch. Hold static stretches for 20 to 30 seconds, and repeat them three to five times.
Relax With Yoga
Yoga poses offer several options for increasing your hamstring flexibility. These poses work well because they tend to engage several muscle groups at once, helping you become more flexible throughout your body, even while you focus on your hamstrings. Positions include the downward-facing dog, where you make an inverted "V" with your body -- only your hands and feet should be touching the floor, with your back and legs straight and your hips pointed toward the ceiling. Or, try the triangle pose, where you stand with arms lifted straight out from your shoulders and your feet wide -- about the same distance from your body as your wrists. Turn one foot outward 90 degrees so it's facing away from your body, then bend at the waist to touch the floor with one hand beside your foot; use a box or stack of books to balance you if you can't touch the floor. Point your other arm toward the ceiling. Hold each pose for 30 to 60 seconds.