Fish oil is a supplement that can help bodybuilders in many ways. Fish oils play an important role in a bodybuilder's health and fitness level. Fish oils speed up recovery time, burn body fat, support testosterone levels, and promote muscle growth. Fish oil supplements also reduce the risk of heart attacks, lower blood pressure, and prevent strokes. Consult a doctor before using fish oil.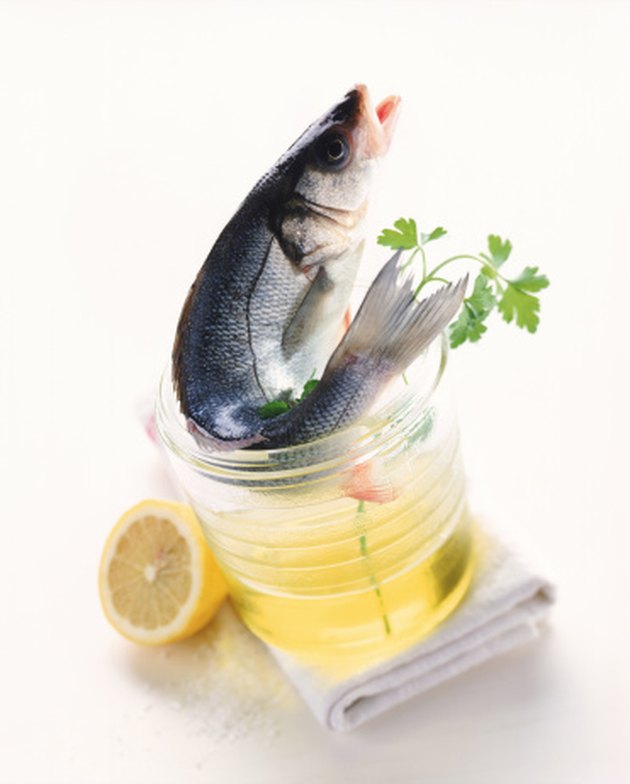 Fat Loss
Reports have indicated that fish oil supplements can help bodybuilders lose body fat. Several studies show that fish oils help fat loss. The University of South Australia did a test that was published in the "American Journal of Clinical Nutrition." The fish oil groups were given six grams of fish oils per day. The fish oil group came out with the best results losing an average of 1.2 percent of body fat, and having an average loss of four pounds per person. The group that didn't use fish oils did not lose any percentages of body fat, or weight. The test took a total of 12 weeks.
Blood Pressure
High blood pressure is a common risk for bodybuilders. Bodybuilders perform stressful workouts and consume high levels of red meat. Reports have shown that red meat is linked to increased blood pressure. Bodybuilders consume red meat in their diets to increase their protein intake. Fish oils are scientifically proven to lower blood pressure. Lower blood pressure help bodybuilders live a healthier life style, and decreases chances of a blood pressure-related illnesses such as heart disease.
Cardiovascular Disease Prevention
Fish oils have been proven to help prevent cardiovascular disease. Cardiovascular disease leads to heart attacks, strokes, and sudden death. Bodybuilders must stay healthy at all times to be able to increase muscle mass and definition. Preventing cardiovascular disease should be a bodybuilder's main goal. Bodybuilder Kris Dim had a sudden near fatal stroke at the age of 34, and bodybuilder Mike Matarazzo suffered a heart attack at the age of 38. The Mayo Clinc recommends that using fish oil supplements can reduce the risk of heart attacks, sudden death, and strokes.
Less Injuries and Inflammation
Fish oils are proven to reduce the risk of inflammation. Over time, bodybuilders develop injuries and suffer joint pain from the countless hours in the weight room. Fish oils have been tested for their effectiveness to reduce inflammation and joint pain. Research has proven that fish oils help the body reduce inflammation and joint tenderness. When the joints and tendons are healthy, bodybuilders are able to increase their level of workout intensity and be able to perform more frequent training routines.