An exercise bike is commonly used in homes and gyms to provide aerobic activity indoors during unfavorable weather conditions. Also called a stationary bike, exercise bikes are elevated on a frame that prevents it from moving as you pedal. When you hear knocking, it is important to inspect your bike to ensure everything is assembled correctly.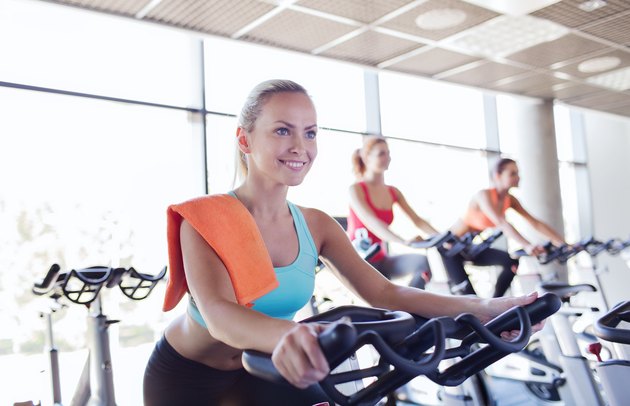 Assembly Problems
Once you have assembled your exercise bike, it is important that you double-check your work. Loose bolts and parts can cause knocking and rattling in the bike's frame and pose an injury risk. Work your way around, tightening bolts and making sure your pedals, seat, tires and electrical parts are secure. Any loose parts require repair before using your bike.
Workout Surface
Placing your exercise bike just anywhere can cause instability, forcing the bike to lean to one side or alternate sides as you pedal. Your bike requires a soft, even surface such as carpeting or a large area rug. Hard surfaces such as tile, wood and concrete are uneven and cause the bike supports to slip or wobble. You may also find that you are not sitting on your bike correctly, according to SportSmith. If you are leaning too far to the right or left, your bike will become unstable, especially on rough surfaces.
Disrepair
As with most gym equipment, maintenance is a must. Over time, your bearing, wheels and belt will wear out, requiring replacement. As they become worn, you will experience rattling, knocking, wobbling and even difficulty pedaling. Replacing these parts every six months to a year will keep your bike working at peak performance. To find the parts specific to your model and make, consult the manufacturer's user manual or call the number provided with your assembly instructions.
Electric
Some exercise bike models are equipped with an alternator that provides resistance and increased performance. When your alternator is not working properly, it will knock. This normally means it is out of its normal range of 9 to 11 volts. Lower readings indicate that your alternator needs immediate replacement. This is because as you pedal, the electrical current is not circulating correctly and is causing the alternator to work harder and burn out.