Once you reach age 40, you, as a woman, may feel the odds are stacked against you when it comes to weight loss. Hormonal changes and reduced muscle mass give you a body you don't recognize.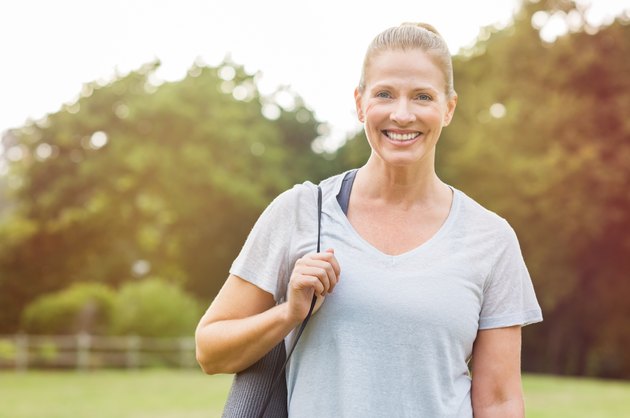 A woman's 40s can be incredibly demanding in terms of family and work, which makes healthy eating and exercise harder to fit in. An extra 10 pounds creeps on without you noticing until it's too late. You can lose it, but it may take a bit more effort than it did in your 20s.
Instead of falling for some fad or quick fix that will leave your metabolism out of whack and with more weight to lose when you gain it all back, opt for healthy weight-loss measures that can help you lose pounds quickly, but healthfully.
Weight-Loss Basics
Although it may not seem like it, weight loss in your 40s works the same way as it does in your younger years. You must create a caloric deficit, meaning you burn more calories than you consume, to drop pounds.
Creating this deficit can be tricky, though, because you can't always accurately determine how much you burn. In your 40s, your metabolism may have slowed down, so it takes even fewer calories and more activity than it once did to prompt weight loss.
Fitness magazine reports that you burn about 100 calories fewer per day in your 40s. This slow-down can be due to the natural loss of muscle mass that occurs with aging, hormonal shifts, increased demands on your time that eat into your exercise schedule, and diminishing energy levels that may cause you to unconsciously move less during the day.
Safe and Quick
The Centers for Disease Control and Prevention advise safe weight loss at a rate of one to two pounds per week. Now, you may have visions of dropping all 10 pounds in a week — but if you can even manage that rate, it will likely lead to quick regain that may be even harder to lose.
Dr. Mehmet Oz and Dr. Michael Roizen explain in "You, On a Diet" that when you lose weight quickly, especially without exercise, you lose muscle and fat, but when you regain weight you regain mostly fat. This leaves you fatter and less healthy in the long run.
You can safely expect to lose the 10 pounds in a minimum of five weeks, provided you can create a deficit of 1,000 calories per day and not dip below about 1,200 calories necessary to keep your metabolism humming and to provide all the nutrients you need.
Eating Strategies
Start your day with a healthy breakfast and eat regularly throughout the day. Several mini meals may help keep your hunger levels stable and your metabolism burning.
Have a small serving of protein at each meal, such as 2 to 3 ounces of lean meat or poultry, 8 ounces of low-fat Greek yogurt, 1/2 cup of soybeans or an ounce of nuts. Protein digests more slowly, making you feel full for longer, and it supports retention and growth of muscle — when paired with regular strength training.
Now, more than ever, you should put down the sugary sweets, calorie-laden drinks and refined flour. These have empty calories that you can't afford regularly, especially when you're trying to lose weight. Pair your protein with 1/2 cup of whole grains, leafy greens and small amounts of heart-healthy fat, such as that found in nuts, avocados, fatty fish and seeds.
Activity
You may not have time for formal exercise, but the more you move, the more calories you burn. Perhaps you take a walk around the field during your kids' soccer practice or opt for the stairs and the far-out parking spot at work. Reconnect with your significant other by taking a brisk evening walk together. When you are trying to lose weight quickly, every little bit of movement counts.
Formal Exercise
If quick weight loss is truly your priority, you'll make time to head to the gym so you can fit in a 60-minute interval session on the treadmill or elliptical several times per week.
A study published in a 2008 issue of "Applied Physiology, Nutrition and Metabolism" found that non-exercisers who did three workouts consisting of 10 rounds of four minutes of all-out effort followed by two minutes of easy effort three times per week for six weeks increased their muscles' abilities to burn fat and carbohydrates, which helps with weight loss. Strength training is also an important strategy in weight loss after 40.
You lose muscle mass as you age, which decreases your metabolism, but you can offset that decline by strength training every major muscle group at least two times per week. Putting these habits into place now, in your 40s, means you'll not only lose the weight at a reasonably quick rate, but you'll stay healthy, strong and lean into your later years, too.