Apple cider vinegar, made from fermented apple juice, has been a folk cure sensation since 1958, when Vermont country doctor D.C. Jarvis wrote a book extolling its virtues for treating everything from arthritis to diabetes to weight gain. When it comes to scientific proof for apple cider vinegar's many health claims, things get a bit murky. Apple cider vinegar has not been conclusively proven to cure anything and can cause health problems of its own, but has shown some potential benefit in lowering blood glucose levels. Ask your doctor before drinking apple cider vinegar.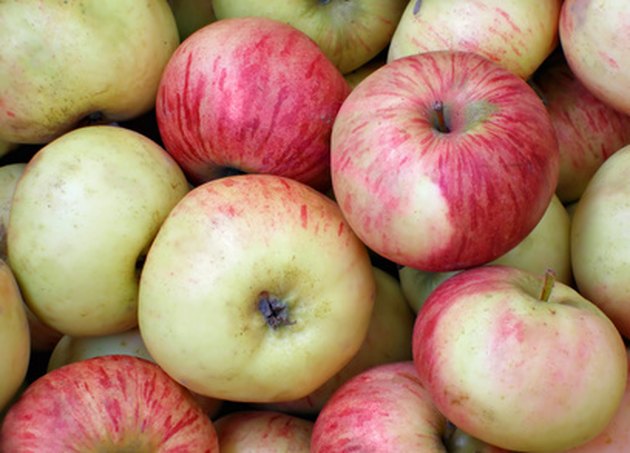 Diabetes
A small study published in the January 2004 issue of "Diabetes Care" conducted by the University of Arizona looked at the effect of apple cider vinegar compared to placebo on 29 subjects with Type 2 diabetes, insulin resistance or normal insulin sensitivity. Subjects drank either 20 g of apple cider vinegar with 40 g of water and 1 tsp. of saccharine or a placebo drink followed by an 87 g carbohydrate snack with a bagel, butter and orange juice. One week later, the subjects reversed groups. Bloods were drawn fasting and at 30 and 60 minutes after eating. Compared to the group who took placebo, the group that took apple cider vinegar had improved insulin sensitivity, which lowers blood glucose levels since more glucose is absorbed into the cells. Insulin sensitivity improved 34 percent in those with insulin resistance and 19 percent in those with Type 2 diabetes compared to placebo.
Weight Loss
A Swedish study published in the "European Journal of Clinical Nutrition" examined blood glucose levels as well as feelings of fullness in a small group of 12 healthy subjects who took three different amounts of vinegar along with white bread or white bread without vinegar. The subjects who ate the bread with the larger amounts of vinegar had higher satiety scores and also had lower blood glucose rises at 30, 90 and 120 minutes after eating. People who feel full longer might be expected to eat less. However, registered dietitian Kathleen Zeratsky of MayoClinic.com states there's little scientific proof for this method of weight loss.
Arthritis
The Arthritis Foundation does not consider apple cider vinegar a viable treatment for arthritis, calling it harmless but unproven, according to nutrition consultant Beth Fontenot.
Risks
Apple cider vinegar can have harmful side effects. Undiluted apple cider vinegar, which is highly acidic, can remove enamel from teeth as well as cause stomach, esophageal, or throat irritation or erosions. Taking too much apple cider vinegar could also lower potassium levels in the blood and could weaken bones.