Nutrition plays an important role in the overall success of any fitness training program, and can be broken down into pre-workout, post-workout and general nutrition. Performing a workout on an empty stomach can reduce the effectiveness of the workout, but a pre-workout protein shake provides the energy and strength your body needs to finish an intense workout. The protein provides the building blocks for muscle development and the additional ingredients in the shake can be customized to meet your individual fitness goals.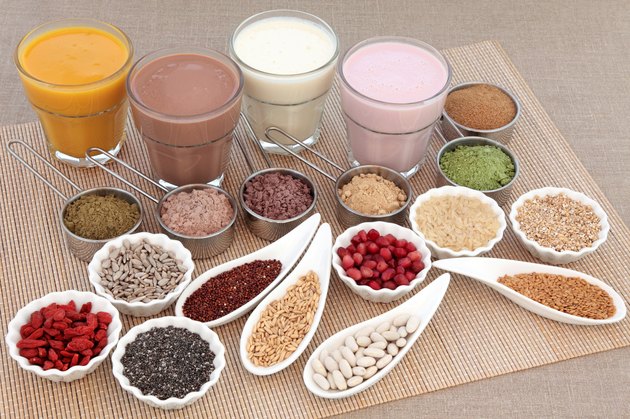 Protein Source
Proteins and amino acids are the building blocks of your muscles and must be consumed in sufficient amounts to support lean muscle development. Charlie Poole from Bodybuilding.com suggests that whey protein powder is the best source of protein for a pre-workout shake. The whey protein is absorbed into the bloodstream quickly allowing your body to use the amino acids during and immediately after the workout.
Benefits
The benefits associated with consuming a pre-workout protein shake goes beyond having a steady flow of energy and strength during the workout. The ingredients in the protein shake increase lean muscle mass by helping your body recovery faster and reducing post-workout muscle breakdown. Your metabolism also increases that improves your body's ability to burn excess calories and stored fat.
Considerations
Combine 5 g to 40 g of protein with 10 g to 30 g of carbohydrates and consume about 30 to 45 minutes before your workout. The amount of protein and carbohydrates is dependent on your fitness and bodyweight goals and overall intensity and duration of the workout. For example, use 30 g to 40 g if you want to build muscle mass but reduce the amount to 5 g to 10 g if your fitness goals include weight loss. If your workout is going to last longer than 40 minutes, add extra protein to stabilize the absorption rates into your bloodstream.
Additional Ingredients
Add a variety of ingredients to the pre-workout protein shake according to your fitness goals and taste preference. Mixing the shake with skim milk adds protein and carbohydrates. Additional carbohydrate sources for increased energy levels include fruit juice, raw fruits and oatmeal. You can also add supplement powders such as electrolyte powders or muscle-building supplements such as creatine monohydrate and glutamine.