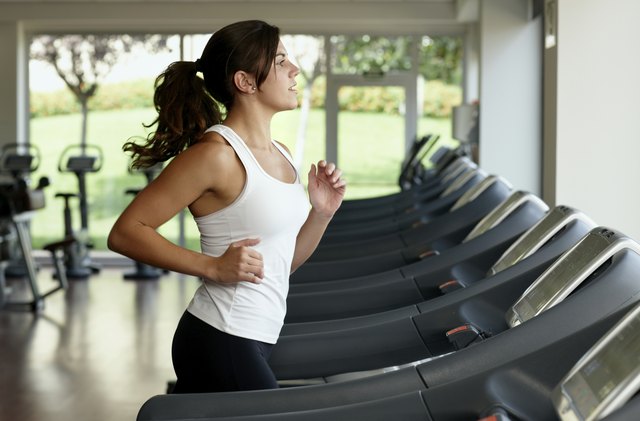 An ideal workout program should consist of both cardiovascular and resistance training. It may be confusing for early rising exercisers to decide which training method is best to perform in the morning for achieving results. Understanding how certain body functions react in the morning will assist in determining your training schedule and exercise method.
Evening Weight Training Benefits
In a research study by the University of Southern Mississippi, presented by Dr. Timothy P. Scheett at the 2005 National Strength and Conditioning Association Annual Meeting, the effects of the training time of day for 16 men over a 10-week period was examined. Half of the men weight trained before 10 a.m. and half lifted weights after 6 p.m. The evening group of men reduced body fat by 4 percent. In comparison, the morning weight training group experienced no body fat changes at all. Researchers in the study were unable to conclude why the evening workouts were more effective.
Growth Hormone Production
During sleep, your body repairs and recovers muscular tissue. Growth hormone plays a vital role in weight-training recovery. Growth hormone also assists in fat breakdown and repairing lean muscle tissue. The University of Colorado informs that growth hormone is produced in the body during sleep. Performing an intense weightlifting session in the evening followed by a post-workout recovery meal and sleep sets the body up for ideal recovery and growth conditions.
Morning Cardio Benefits
Your metabolism in the morning is typically decreased due to the slowing effect that a night's sleep causes. When cardiovascular exercise is performed in the morning, you can increase metabolism during traditionally slower times which results in a greater overall daily calorie burn. Another benefit from morning cardio workouts is that completing your cardio early prevents putting it off later due to a hectic schedule or fatigue.
Scheduling Your Workout
While splitting your routine for morning cardio and evening weight training is best, schedules may not allow this type of regimen. Instead alternating a cardio workout one morning and then a weight-training session on another day in the evening will help you in achieving your fitness goals. Proper rest and recovery from training sessions, such as 48 hours between strength training sessions focused on the same muscle group, should be allowed to ensure progress and prevent injuries.