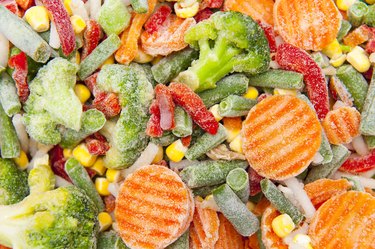 Healthy Choice produces various frozen meals, many of which are low in carbs. These low-carb frozen meals typically have fewer than 18 grams of net carbs. This makes most Healthy Choice meals a good choice for liberal low-carb dieters, but unsuitable for those following strict ketogenic diets.
Reducing Your Carbohydrate Consumption
If you're used to following a Western diet, most of your calories likely come from carbohydrates. According to the Mayo Clinic, the average Western diet gives you 45 to 65 percent of your total daily calorie intake from carbohydrates. This means the average 2,000-calorie diet contains between 225 and 325 grams of carbohydrates daily.
According to the Food and Drug Administration, there are four main types of carbohydrates: sugars, sugar alcohols, starches and dietary fiber. People who consume a 2,000-calorie diet should get at least 25 grams of dietary fiber each day.
Some people wish to lower their carbohydrate intake substantially. The Mayo Clinic states that the average low-carb diet allows the consumption of 20 to 60 grams of carbohydrates per day. To reduce your carbohydrate intake in a healthy manner, low-carb diets require you to increase your fat consumption.
Following a Low-Carb Diet
Low-carb diets are well-known for being able to help with weight loss. However, these diets can also help improve the health of those with diabetes, prediabetics, people with epilepsy and people with insulin resistance.
According to a May 2019 study in ​Diabetes Care​, the journal of the American Diabetes Association, reducing your carbohydrate consumption can help lower triglycerides and blood pressure, improve cholesterol, and reduce dependence on certain medications. A January 2019 study in the journal ​Frontiers in Neuroscience​ also reported that stricter low-carb diets like the ketogenic diet and a modified Atkins diet can help people manage epilepsy.
Regardless of the low-carb diet you choose, you should always try to consume your recommended daily intake of dietary fiber. Low-carb diets require you to reduce your net carb consumption, which refers to the sugars and starches in your meals. However, they still want you to consume your recommended amount of dietary fiber each day.
Healthy Choice's Low-Carb Frozen Meals
Following a low-carb diet can be challenging. Foods from companies like Healthy Choice, which sells low-carb frozen food products, can help make low-carb meal planning easier.
Most of Healthy Choice's low-carb meals are Power Bowls, though it also has a few low-carb Simply Café Steamers. Power Bowls are available as both breakfast bowls and grain-free frozen meals.
Healthy Choice's breakfast Power Bowls come in flavors like Unwrapped Burrito Scramble, Turkey Sausage & Egg White Scramble, Roasted Red Pepper & Egg White Shakshuka and Pesto & Egg White Scramble. Each bowl has between 14 and 17 grams of net carbs.
Healthy Choice's low-carb frozen dinners come in flavors like Spicy Beef Teriyaki, Chicken Marinara, Basil Pesto Chicken and Spicy Black Bean & Chicken. These Power Bowls have between 5 and 12 grams of net carbs.
Although Healthy Choice's Café Steamers aren't marketed as low-carb frozen dinners, some of them are also suitable for low-carb diets. For instance, the Chicken & Vegetable Stir Fry Simply Café Steamer has 15 grams of carbs, 4 grams of which come from fiber. Similarly, the Chicken Tikka Masala Simply Café Steamer has 20 grams of carbs, 7 grams of which come from fiber.
Low-Carb Diets and Healthy Choice
While Healthy Choice's low-carb frozen meals can be a sensible choice for people on very flexible low-carb diets, they aren't suited to people who are following strict low-carb diets. These meals are generally too rich in carbohydrates for the number of calories being consumed (about 200 calories per meal).
Healthy Choice's low-carb frozen meals also have very little fiber. Most of the meals have around 5 grams of fiber (they range between 3 and 7 grams of fiber per meal). This means you'd need to consume a substantial amount of dietary fiber in your other meals to meet the recommended daily intake.
There's nothing wrong with eating Healthy Choice's low-carb frozen meals every now and then on a low-carb diet. However, if you want to consume them regularly, you might want to accompany each meal with healthy fiber-rich foods that are rich in healthy fats, like avocado and nuts. According to the Mayo Clinic, the dietary fiber from these foods can improve your satiety and help keep you feeling full for longer.