When it comes to healthy eating, it's ideal to make most of your meals at home, where you have control over ingredients. However, when you're under a time crunch, having a nutritious frozen meal is a good way to stay on track. The American Diabetes Association lists Healthy Choice as one of the better options for frozen health food brands. If you're following a low-carb meal plan, you'll need to tailor your choices, and, fortunately, Healthy Choice makes this easy to do. You just have to know what to look for.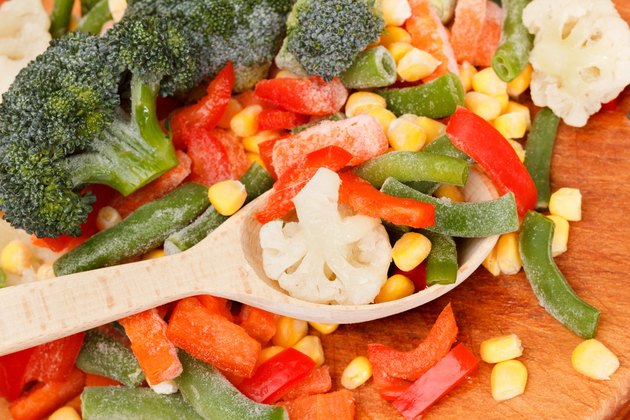 Finding Low-Carbohydrate Healthy Choice Meals
Low-carb dieters typically aim to have anywhere from five to 20 grams of carbohydrates per meal, depending on their total daily allowance. Many Healthy Choice meals are carbohydrate-rich and won't work on a low-carb meal plan. For instance, the ADA mentions the Spicy Caribbean Chicken, which contains 52 grams of carbs. For some, this is an entire daily allotment.
Your best bet is to use the "meat and vegetables" approach when hunting for low-carb Healthy Choice meals. Look for options that contain only lean protein and non-starchy vegetables. Starchy vegetables, such as roots and tubers, contain a heftier number of sugar units, making them higher in carbohydrates. That's why Healthy Choice varieties containing starches such as white rice and pasta are likely to contain more carbs than you're looking for. Non-starchy vegetables typically come from the flowering part of the plant and have fewer carbohydrates. Some examples include broccoli, asparagus, cauliflower, cabbage and cucumber.
Lowest Carbohydrate Options
While following a low-carb meal plan, dieters typically count the total grams of carbs, minus fiber, since fiber is indigestible. This is referred to as net carbs. For example, if a meal contains 10 grams of total carbs and 5 grams of fiber, you're getting 5 grams of net carbs.
If you're looking for the lowest carb options, choose from a couple of Healthy Choice frozen meals that come in under 10 net carbs. The Grilled Chicken & Broccoli Alfredo contains 190 total calories and is rich in protein at 27 grams. It contains 4 grams of net carbs and is low in fat, coming in at 6 grams. Grilled Chicken Pesto & Vegetables carries 200 total calories, 27 grams of protein, 6 grams of fat and 6 grams of net carbs.
Choices Under 16 Net Carbohydrates
If you have wiggle room in your carbohydrate reserve, take advantage of options with under 20 grams of net carbs, such as the Chicken & Vegetable Stir-Fry. It will cost you 11 grams of net carbs from your carbohydrate bank. You'll make out with fewer than 200 total calories and get a healthy serving of protein at 22 grams. The Chicken & Vegetable Stir-Fry is also low in fat with 4 grams.
Many of the low-carb options feature chicken. If chicken dishes become boring, try the Beef Merlot. It comes in at 180 calories and contains 15 grams of net carbs, 15 grams of protein and 4 grams of fat.
Make Your Own Healthy Choice Alternative
As an alternative, take one day each week when you have extra time and prepare a few frozen meals for the week. Stir-fry vegetables with a lean protein, such as chicken breast or tofu, are easy to steam or simply saute, freeze and reheat on the go. Hearty soups are also easy to make and take along when you're short on time. Combine vegetable stock with chicken or another lean protein and your choice of vegetables, such as onion, celery and mushrooms in your slow cooker. Additionally, try stashing away dishes that you can eat cold, such as tuna salad, grilled chicken salad and salmon and chickpea salad.