There are a variety of medicines for acid reflux, according to the American Academy of Family Physicians (AAFP). Some can deal with heartburn problems immediately. They include antacid tablets and liquids that can be taken when acid reflux first strikes. Other medicines, known as H2 blockers, help reduce acid production and can keep acid reflux away over a period of hours. There are also medications called proton pump inhibitors that can heal the esophagus when damaged from acid reflux and also control acid production.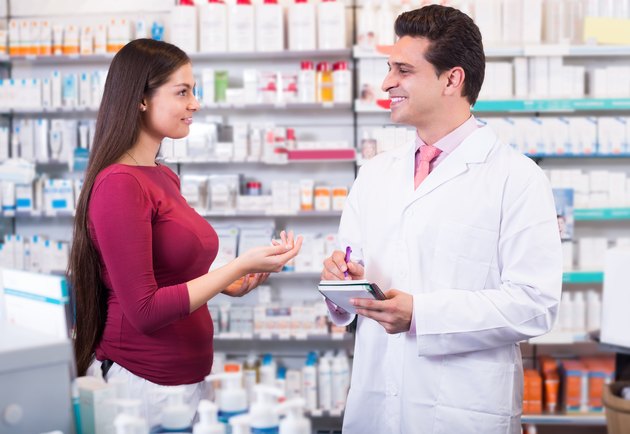 Antacids
Over-the-counter antacids are made to neutralize stomach acid quickly. Tums, Rolaids, Mylanta, Maalox, Riopan and Alka-Seltzer are often the first drugs recommended to relieve heartburn and acid reflux symptoms, according to the National Digestive Diseases Information Clearinghouse (NDDIC). These products reduce the acid levels in the stomach. Most antacids are available in tablet or liquid form. Antacids can have side effects, according to the NDDIC. Magnesium salt can cause diarrhea and aluminum salt can lead to constipation. The antacid products often combine aluminum and magnesium salts to balance the effects. The calcium carbonate ingredients in some antacids provide a good source of calcium, but can also cause constipation, the NDDIC says.
H2 Blockers
Products such as Tagamet HB, Pepcid AC, Axid AR and Zantac are H2 blocker medications intended to provide long-term relief from acid production, but they don't work as quickly as antacids, according to the Mayo Clinic. People who want to prevent heartburn or acid reflux throughout the day often use them. Some of these products' makers claim the medication will last for hours after taking it. Many H2 blockers are available over the counter, but prescription-strength medicines are also available after a visit to the doctor. There may be minor side effects of headache, nausea, constipation or diarrhea with acid reducers and antacids, the AAFP explains.
Proton Pump Inhibitors
To block acid production and allow time for the damaged esophagus to heal, proton pump inhibitors are available. The products include Prevacid, Prilosec, Protonix, Aciphex and Nexium. Prevacid and Prilosec are available over the counter. Proton pump inhibitors are for people who want relief from acid reflux and also need healing of the esophageal lining, which can happen to those with gastroesophageal reflux disease, or GERD.
Treatment for Stress
Anxiety and stress may worsen acid reflux symptoms, according to the Mayo Clinic. If you find your heartburn gets worse because of anxiety and stress, the Mayo Clinic recommends aromatherapy, hypnosis, listening to music, massage or relaxation techniques. Gentle exercise is also good, but only when walking or riding a bike. Vigorous exercise may aggravate heartburn.