Scientist Wallace Carothers of the DuPont company invented neoprene in April 1930 in response to a national shortage of natural rubber. Since then, it has served a variety of purposes as a component of automotive engines and chassis to wetsuits. As of 2010, some manufacturers were touting it as a weight-loss tool.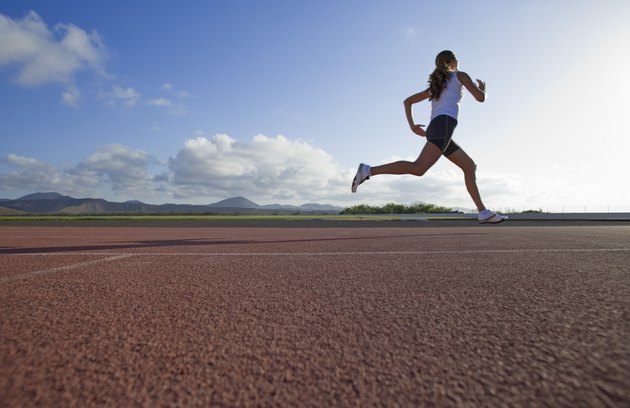 Premise
Manufacturers market neoprene sleeves, wraps and suits as being able to elevate body temperature to promote fat-burning and to rid the body of excess water through sweating. Essentially made of synthetic rubber, these sleeves, wraps and suits are designed to be worn during exercise to increase its effectiveness.
Research
In a study published in "The Journal of Athletic Training" in 2005, scientists found that subjects who wore neoprene suits did exhibit elevations in both skin temperature and intramuscular temperature. Their temperatures remained high even 30 minutes after they stopped exercising. However, the scientists concluded that this did not promote weight loss. They felt that the use of neoprene might potentially prevent sports injuries by keeping muscles warm during athletes' periods of inactivity.
Caloric Expenditure
Another study by Mariana Bowman of Sweet Science Nutrition tested two women and one man wearing neoprene belly wraps during moderate physical activity. Though limited to only three subjects, Bowman's research did indicate that the use of neoprene increased calorie expenditure during exercise sessions by as much as 29 percent per minute.
Interference With Sweat Loss
The study published in "The Journal of Athletic Training" raises concerns that neoprene prevents tissue from cooling because sweat cannot effectively evaporate from the skin, taking body heat with it. The body needs to dissipate heat during workouts to get the most benefits from exercise. Your body will still perspire in neoprene, but the sweat remains trapped beneath the synthetic rubber so your body cannot cool down.
Misconceptions
You might mistake weight loss after exercising with neoprene for fat loss, but it's actually just water loss. The weight will come back as soon as you drink again and replenish your body fluids. Increasing your perspiration could be potentially dangerous, because the water you're losing also carries electrolytes and sodium, things your body needs to operate efficiently. Any benefits from increased caloric expenditure during exercise with neoprene will come about more slowly if you consistently burn more calories than you consume on a daily basis. Genuine weight loss won't be apparent immediately.