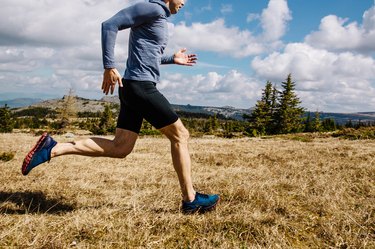 One of the best things about running is that you don't need much equipment to get up and out, aside from the right pair of shoes. But that doesn't stop runners from having strong opinions on all their other gear, from socks to fitness trackers to shorts.
Just like ice cream flavors or morning versus evening workouts, every runner has a preference when it comes to their go-to bottom. The two most popular varieties are the traditional loose-fitting pair — often with a moisture-wicking liner — or a compression fit that's snug against your skin.
But is there actually a best bet if you're looking to run faster or longer? Here's the truth about compression shorts for running, and what to look for next time you're on the hunt for something new.
It's All About the Fabric
Running shorts of either variety make use of the same basic materials, typically polyester and nylon. These synthetic fibers absorb very little water and dry quickly to prevent sweat buildup. You'll often see running clothes described as "moisture-wicking" or "sweat-wicking," which means that the fabric draws moisture away from the body to help keep you dry. Tighter-fitting compression shorts are commonly also made with stretchy, resilient Spandex.
A traditional running short is a simple garment that allows a full range of motion for a runner's stride. These shorts are loose to keep you cool and comfortable as you heat up during a run. Some feature a split at the side to further prevent any restriction, a drawstring at the waist and small security pockets for items like an ID or a key. Both men's and women's designs often come with a supportive liner, for a secure and comfortable fit.
Compression shorts, on the other hand, give you that sucked-in feeling and are said to improve blood flow to the heart and muscles. "Simply put, compression gear is skintight clothing that can be worn underneath your standard gym clothes or stand alone," says Derek Pope, a certified personal trainer at Anatomy, a gym and wellness center in Miami. "Compression gear compresses your muscles to keep everything supported and contained and improves circulation."
What Does the Science Say?
Sure, compression clothing may look cool, but does it actually help your workout? Athletes who wore compression gear in a December 2016 study published in Sports Medicine saw some benefits related to endurance — like the energy it takes to run and how hard that running feels — and recovered faster post-sweat.
January 2019 research published in Evidence-Based Complementary and Alternative Medicine shows a positive link between wearing compression clothes after a workout and reduced muscle soreness, suggesting leaning into the fabric specifically after heavy strength-training workouts.
But it's not all positive: Experts found no tie between improved running performance and compression leggings in research presented at the 2017 annual meeting of the American College of Sports Medicine. The Ohio State University researchers concluded, however, that wearing compression gear probably wouldn't hurt, either.
What to Look For
Ultimately, compression shorts are not going to turn you into a marathoner overnight or make too much of a substantial difference in your usual running routine. It's really up to personal preference: If you find compression shorts uncomfortable, ditch 'em. If you feel fast and sleek in your tight-fitting shorts or pants (and they don't break your budget), then by all means, suit up.
The right choice for you may still aid in your overall running performance: You'll run your best if you're the most comfortable you can be. You'll see the payoff when you're able to focus on your stride without any distraction from your clothing.
And remember: Compression gear is tight, not suffocating. "Look for options that are breathable, comfortable and functional," says Pope. "They allow you to feel powerful during tough runs and grueling leg workouts." Opt for styles that promise four-way stretch and sweat-wicking properties for optimal comfort, like the Nike Pro Men's Training Short and Women's 3-Inch Short, Under Armour's HeatGear Compression Shorts or the Alosoft Aura from Alo Yoga.