Many people who love working out hate to do so in a gym full of people. It is not shyness that prevents them from engaging in aerobic classes or running on the treadmill along side other exercise enthusiasts. Instead, it is fear of smelling offensive. The smell is produced by bacteria multiplying on sweaty skin.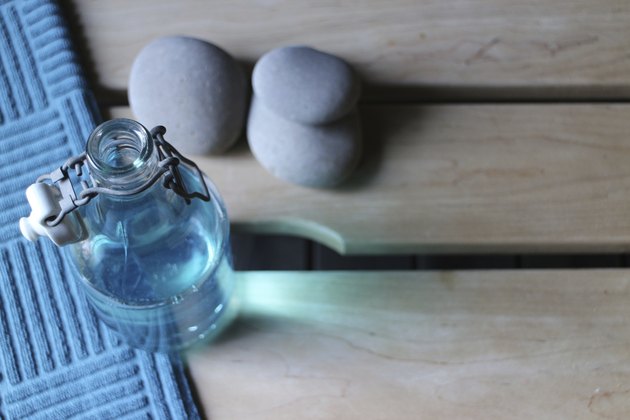 Causes
Body odor that occurs because of physical exercise begins with the sweat glands in the body. The actual perspiration that is produced does not smell bad. The odor arises from bacteria breaking down sweat. According to The Titi Tudorancea Bulletin, this process is referred to as bromhidrosis. The bacteria actually breaks down the perspiration into acids, which results in an detectable odor. Common areas that become sweaty and ultimately smelly are the underarms, feet, groin, pubic region and the navel. Propionic acid is one of the acids produced by the bacteria breakdown. This acid is produced in adults from the propionibacteria living in the sebaceous glands. This acid's odor is pungent and some report it smells like vinegar. The other smelly bacterial by-product is isovaleric acid, which is made by Staphylococcus epidermidis.
Chemical Treatment
The simplest chemical treatment for preventing body odor while you exercise is the application of antiperspirant or deodorant. Antiperspirant reduces the amount of sweat that accumulates on your skin while deodorants work by eliminating body odor but not reducing the amount of perspiration. Aluminium-based agents in antiperspirants block sweat pores in order to help eliminate sweat in the area applied. Deodorants usually contain alcohol, which makes an acidic environment that bacteria do not thrive in. When choosing an antiperspirant or deodorant, read the product label as these products sometimes can only be applied to the underarm area and not other areas that become sweaty. Consult a physician if these products do not work for you. The doctor may prescribe a medication that can help.
Self Care
Several simple treatments can help you fight body odor when you work out. The first thing is to maintain good hygiene before your work outs. Bathe each day and shower with soap and water after each work out. Carefully clean the areas where sweat typically accumulates. You can use an antibacterial soap if desired. Dry yourself thoroughly after bathing. Wear workout clothing that is made of a material that "wicks" sweat away from your body. This helps keep you dry and odor free when you exercise strenuously. Also, keep a clean towel handy to wipe sweat off while you exercise. Put talcum powder in your workout shoes to help your feet stay dry and odor free. Avoid wearing the same shoes on consecutive workout days as they should be completely dried and aired out. Change socks during your work out if they become wet with sweat. Also, avoid eating "smelly" foods like garlic and onions as these can increase body odor and, of course, give you bad breath as well.
Warning
Not all body odor is due to the bacteria breaking down sweat and multiplying on your skin surface. Occasionally, certain medical conditions can cause odor. Check with your physician if you have difficulties in controlling odor, if the odor differs from what you are accustomed to, or you experience other physical concerns following exercise. Stop a workout immediately if you begin to feel ill. Ideally, you should have a full medical check up before beginning any type of physical activity program.