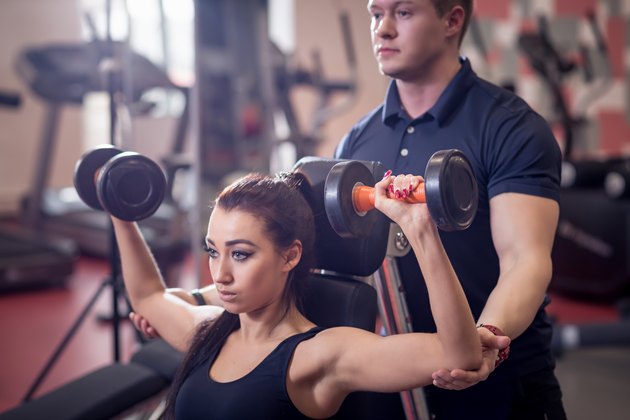 If you've got dreams of being a personal trainer but you don't have the funds to get the education you need, you can seek out a grant to help you pay for school.
Grant money is generally available for post-secondary school — an education beyond high school — and is offered by all types of organizations and the state and federal governments. Whether you qualify for a specific grant depends on various factors, such as your financial need and academic qualifications.
Types of Grants
Grants for student aid can come from many places. The federal government offers several types of grants, and you can also get grants from your state government. Many colleges offer financial aid, as do non-profits and private organizations.
Federal Grants
Several federal education grants are available. Some of these are for specific purposes, such as teaching, or specific individuals, such as veterans and their children and spouses. The basic form of grant assistance that anyone with financial need qualifies for is the Federal Pell Grant Program. The amount of the Pell grant funds available to you depends on your financial need and the cost of the school you want to attend.
State Grants
Most states make at least one type of grant available to residents; some states offer many options. The state of Indiana, for example, offers grants under eight different programs including financial aid for veterans and their families, financial aid for teachers and financial aid for independent adults returning to school.
College Grants
Many colleges draw from their own funds to provide grants to students who need them. Many of these same colleges offer degrees in exercise science, exercise physiology or other fields that qualify you to work as a personal trainer. Cornell College in Indiana offers several types of need-based grants, including the Cornell Grant.
Non-Profits and Private Grants
Hundreds of non-profits and private organizations offer grants to people who meet the qualifications. Veteran's associations may offer grants, and you may be able to get a grant if you're a single mother going back to school or if you have or are recovered from certain illnesses. You may also apply for grants from private organizations purely based on need.
Technical Colleges and Certifying Agencies
If you don't want to get a four-year degree in exercise science or a related field, you can attend a program at a technical college or enroll in a self-study program through various personal training certification agencies. While these are less expensive than four-year degrees, they can still be a financial burden.
The National Personal Training Institute of Colorado is accredited by the United States Department of Education, which makes federal grant money available to cover tuition and other costs of attending NPTI in pursuit of certification as a personal trainer.
Any accredited school offering a similar certification will make its accreditation prominently known and should have a financial aid office available to assist students applying for grants.
Certifying agencies sometimes offer incentive for specializing in working with certain populations. For example, the American Council on Exercise, or ACE, offers the Ash Hayes scholarship. This grant provides free ACE certification study materials to adults currently working with or interested in working with youth populations.