Some people bounce out of bed, throw on their running gear and joyfully gambol down the road for their morning exercise. Others hit the snooze button and drag themselves into the gym if they can, feeling sorry for themselves all the while. Physical activity takes some effort for many people, but the benefits are huge when you consider the potential health improvement it brings. For those who use the risk of getting injured as an excuse not to exercise, the Centers for Disease Control and Prevention say that the risk is minimal compared to the potential benefits. Still, consult with your doctor before beginning any new exercise regimen, to make sure you're following a plan that works well for you. Also, keep in mind that the benefits of physical fitness are greatest within the context of an overall healthy diet and lifestyle.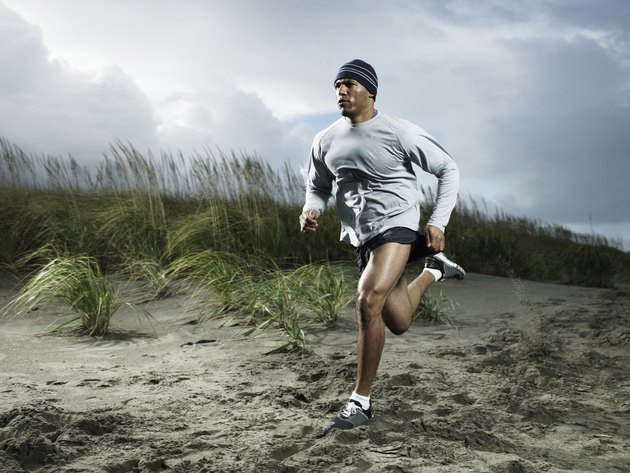 Cardiovascular Health
People who regularly exercise have a reduced risk of cardiovascular problems such as heart disease and stroke compared to unfit people, according to the CDC. As little as 2.5 hours of moderate physical activity regularly every week confers this advantage, but people who do more exercise can reduce the risk even more. Moderate activity, according to Harvard School of Public Health, is activity that makes you sweat but allows you to talk at the same time. A physically fit and active person also tends to have lower blood pressure and lower cholesterol levels than a sedentary person.
Metabolic Health
People who are physically fit tend to suffer less from metabolic issues like Type 2 diabetes and metabolic syndrome, notes the CDC. If a person has metabolic syndrome, she has some or all of these problems; high blood sugar, high blood pressure, high triglycerides, excess belly fat and low high-density lipoprotein ("good" cholesterol). The more exercise a person does regularly, the less chance she has of developing these health problems. (Here and elsewhere, these are general results; it's still possible to develop these problems even if you exercise regularly, which is why regular medical checkups are important.)
Cancer Risk
The Harvard School of Public Health says that fit people potentially have a lower risk of developing certain cancers. These include colon cancer in both men and women and breast cancer in women, and research indicates that endometrial cancer in women and lung cancer in both sexes may possibly also be positively influenced by staying fit.
Bone Strength
Osteoporosis is a condition where bones become more fragile and fractures are more likely. This is associated with aging, but the Harvard School of Public Health says that staying fit helps lower the risk of this happening. Examples of useful activities include brisk walks, dancing and weight training. These are weight-bearing exercises that force the muscle to pull on the bone, thereby influencing the bones to become stronger to handle the stress. Keeping bones strong also helps reduce the risk of fractures.
Mental Health
Keeping physically fit does not just influence the physical body. The Harvard School of Public Health says regular exercise boosts mood and can potentially help reduce depression. People who are fit may also have less trouble sleeping, and if you stay fit as you age, you can also potentially help prevent a decline in cognitive abilities.
Longevity
The CDC says that keeping fit is one of the most important things you can do to increase your longevity. People who are active for about 7 hours a week, the CDC says, have about 40 percent less chance of dying early than those who are more sedentary. In addition, fit older people are generally less likely to suffer falls or have issues affecting everyday movement and activities than those who are less fit.