While a 58-year-old woman can build cardiovascular fitness through moderate aerobic exercise, strength training provide a different type of fitness. As people age, they gradually lose muscle mass. They require fewer calories to maintain their weight, so if they continue to consume the same foods in the same quantities, they gain fat. Women in their 50s can stop this pattern by engaging in two or three half-hour sessions of strength-training exercises weekly.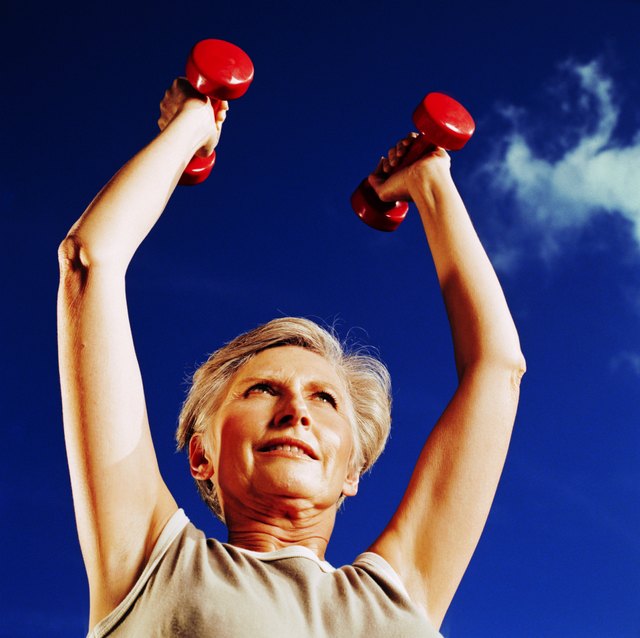 Squats Rule
Almost every boot camp and body-sculpting class features a session of squats. The intensity of squats means that you raise your heart rate as you strengthen, burning more calories while strengthening your legs and gluteal muscles. The most common error in doing squats concerns your position. Make sure you do not extend your bent knees over the tips of your toes. Instead, sit back as if you are about to sit in a chair. You can do this exercise over a chair as long as you do not rest on the chair between squats. Keep your arms stretched out front, and do a set of 10 deep squats before resting and repeating. Keep your weight on your heels rather than the balls of your feet.
Add Pushups
Do not worry if you cannot get down on all fours and do a classic pushup. Begin with a modified pushup. One choice is to keep your knees on the mat and just push your upper body up and down. An easier version is the wall pushup. In this strengthening exercise, you target the muscles in your arms, chest and shoulders. Stand slightly more than arm's length from the wall. Face the wall and place your palms against it at shoulder height. Slowly bend your elbows and bring your upper body toward the wall. Hold the position, and then slowly raise your body back to your starting position, without locking your elbows. Aim for two sets of 10 repetitions each.
Leg Extensions and More
As part of her boot camp workout, Oprah Winfrey does several strengthening exercises per week. Her trainer, Bob Greene, recommends weight and resistance training that alternates different muscle groups on different days. Target leg muscles with leg extensions and leg curls. Strengthen chest muscles with chest presses, incline presses and standing flies. Work on your back and shoulder muscles with lat pulls, seated pull-downs, seated rows, back extensions, shoulder presses, lateral raises, frontal raises and back extensions. Build your biceps with curls.
Sun Salutations
Surgeon and TV doctor Mehmet Oz recommends yoga practice as a way to build strength while also improving your flexibility. Women in their 50s who are just starting a strength-training program may not feel ready to fold themselves like pretzels, but they can start strengthening by fluidly moving and breathing through the sun salutations. These poses stretch the body, target the major muscle groups and get you breathing.