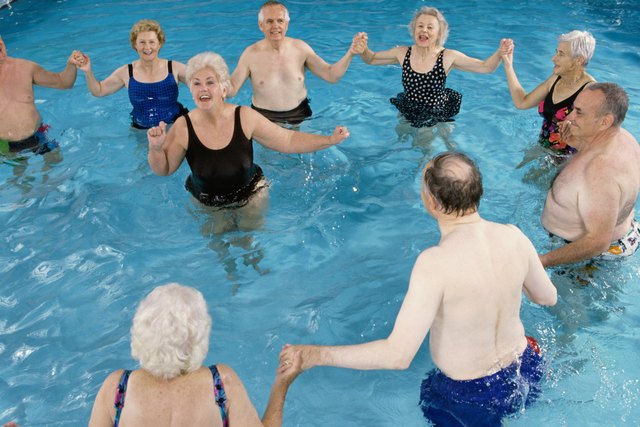 You've made it to the senior years, and perhaps have even retired from your job -- but that retirement shouldn't extend to your exercise routine. At 70 years old, it's still important to get regular exercise to help you stay strong, maintain bone mass and generally be more mobile. For senior women, maintaining bone mass is especially important, since women tend to suffer the effects of brittle or weak bones more significantly than men.
Consider Health & Safety
Don't put on your workout shoes just yet, because the first stop on your exercise journey should be to your doctor's office. For your health and safety, you need to get your doctor's okay to start exercising. She may recommend certain exercises or classes designed for people in your physical condition. She may also impose restrictions on the amount of exercise you get or exercises to avoid. If she gives you the go-ahead, great -- but don't exercise on days when you feel like you're coming down with an illness, you're especially sore or have pain or inflammation, reminds the Centers for Disease Control and Prevention.
Exercise Recommendations
No matter whether you're 27 or 70, the U.S. Department of Health and Human Services has the same guidelines for the amount of exercise you should be doing. Aim for 150 minutes of moderate-intensity exercise a week, which will be roughly 30 minutes at a time, five days a week. On top of that, you need to incorporate strength training two days a week, working all major muscle groups including the legs, arms and back. Strength training not only builds muscle, but helps you maintain bone mass. If you're currently sedentary, you don't have to take all of this on at once, however. Carve out 30 minutes on three days of the week to start. Two of the days, aim to do aerobic exercise, and try strength training the other day. As you get stronger, add more time and more days.
Aerobic Exercise for Seniors
Perhaps the most accessible exercise for you right now is quite simple. Walking not only helps you stay in shape and is a comfortable low-impact exercise, but it involves the movements that will help you stay mobile as you age. Find a friend who is willing to walk with you -- that way you'll be able to help one another should something go awry -- or use an indoor treadmill at a local gym. As you start out, try walking for 10 to 15 minutes, sticking close to home until you've gained enough confidence and strength to venture farther. Every week or so, add five minutes to your time until you can walk for 30 minutes at a stretch. Another low-impact exercise that's easy on your joints is water-based exercise. Your local gym or community center likely offers classes for seniors, which may include aerobics or water walking classes that will be at a pace and intensity that's comfortable for older people.
Gaining Muscle and Strength
It might be something you've never tried, but strength training doesn't have to be all that scary. Don't think you're going to have to start out pumping iron; in fact, many of the exercises you can do involve only your own body weight. To start out, try a variation of the squat in which you sit in a chair and then raise your bottom off the seat a few inches, holding yourself in that "up" position for a count of two before lowering yourself back down. Then stand at the back of the chair, place your hands on the back of the chair, and raise yourself up onto your toes, holding for two seconds. Then raise one leg to the side, hold, lower it back down, and raise the other leg. For your arms, hold a pair of soup cans at your sides and raise one to touch your shoulder; then raise the other one as you lower the first. Also press the soup cans overhead, extending both arms straight up and then back down to just in front of your shoulders. For each exercise, do a set of 12, take a short break, and then do a second set if you're able.