When it comes to choosing a healthy fat, olive oil's a good option. It's good for your cholesterol and overall health. But because it's a concentrated source of calories, you may not want to drink it by the cupful. Instead, use it in cooking or add it to your salad for flavor and health.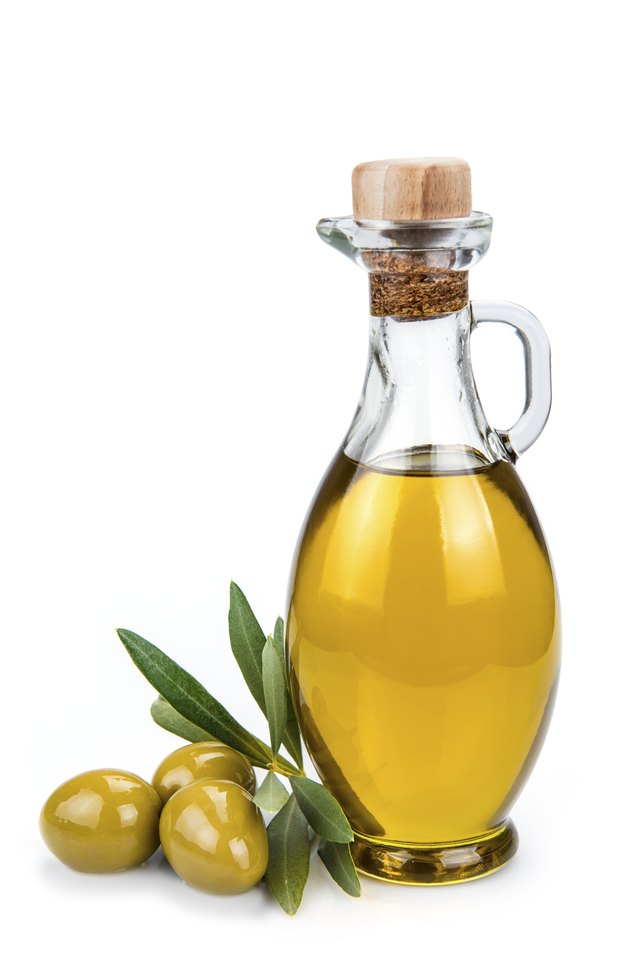 Oil Intake Recommendations
The U.S. Department of Agriculture's ChooseMyPlate.gov recommends you limit your intake of oil to 1 3/4 tablespoons to 2 tablespoons a day. Instead, the USDA suggests you include other sources of fat in your diet that offer other nutritional benefits, such as fatty fish, nuts, seeds and avocados. However, no matter where your fat comes from, tracking your caloric intake from all sources is important to maintain calorie balance for weight control and health.
Olive Oil Nutrition
All the calories in olive oil come from fat, which has 9 calories per gram. One tablespoon of olive oil has 125 calories, which means a 1/2-cup serving has more than 1,000 calories. While the 1-tablespoon serving has 14 grams of fat, most of the fat is in the form of heart-healthy monounsaturated fat. Olive oil is also a good source of vitamins E and K, meeting 10 percent and 11 percent of the daily value per serving, respectively.
Use in the Mediterranean Diet
Olive oil is a mainstay of the Mediterranean diet, which is based on the dietary practices of the people who live along the Mediterranean Sea. This style of eating is linked to fewer chronic health conditions, such as heart disease and cancer, and an overall longer life.
According to a study investigating the relationship between olive oil consumption and blood pressure in Greeks published in 2004 in The American Journal of Clinical Nutrition, Greeks consume on average about 5 tablespoons to 6 tablespoons of olive oil a day. The Mediterranean diet is not only rich in olive oil, but also fruits, vegetables, beans, nuts, seeds and seafood, and limits the intake of red meat and sugar.
Benefits of Olive Oil
The monounsaturated fats in the oil may be the reason it's so beneficial to your health. When you use olive oil in place of fats high in saturated fat -- such as butter -- it helps lower your cholesterol level, according to the American Heart Association. Also, the vitamin E in the oil has antioxidant properties that may protect your body from cell-damaging free radicals, which has been linked to a reduced risk of heart disease and cancer.