When fat accumulates in your liver cells, it prevents your liver from functioning properly. Fatty liver occurs in varying degrees of severity and has various causes. Non-alcoholic fatty liver disease is an umbrella term used to describe several forms of the condition. If you have a less severe form of fatty liver, it is possible to heal with proper treatment. It may not be possible to reverse the damage caused in more severe forms of fatty liver. In this case, the treatment goal is to slow the progression and delay the need for a liver transplant.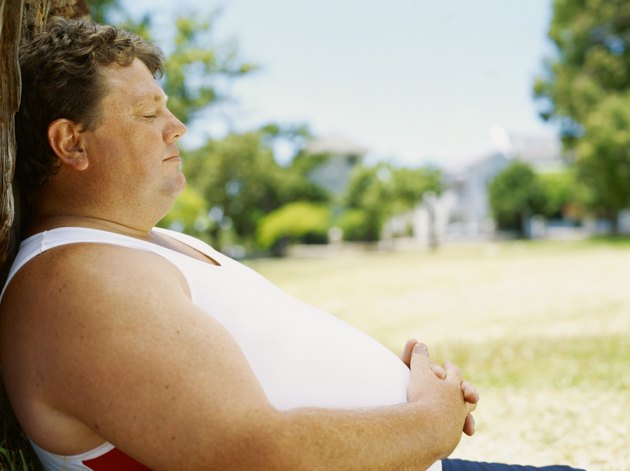 Fatty Liver Disease
You have fatty liver when fat makes up 5 to 10 percent of the liver. Simple fatty liver is the mildest form and occurs when there is too much fat in the liver. It is not accompanied by inflammation or damage. Simple fatty liver is typically a benign condition that does not lead to liver damage, but it makes your liver more vulnerable to injury. When chronic inflammation and liver injury is present, it falls in the non-alcoholic steatohepatitis or alcoholic steatohepatitis categories, depending on whether alcohol is the cause.
Causes of Fatty Liver
Fatty liver can occur when your diet contains more fat than your body can handle. It can also occur as a result of excessive alcohol intake. Non-alcoholic fatty liver is strongly associated with obesity and insulin resistance, according to Cleveland Clinic. Obesity is when you have a body mass index, or BMI -- an indirect measurement of body fat -- of 30 or above. Other causes of non-alcoholic fatty liver disease include having hepatitis C, losing weight rapidly, certain medications, and certain conditions such as cystic fibrosis and inflammatory bowel disease.
Importance of Weight Loss
Because fatty liver is strongly associated with being overweight, weight loss is the cornerstone to treating non-alcoholic fatty liver disease. Lifestyle adjustments that led to a 7 to 10 percent reduction in weight over a one-year period resulted in significant improvements, including a reduction in inflammation, according to a review published in the June 2010 issue of the journal "Minerva Gastroenterology and Dietetics." If you weight 220 pounds, that is a weight loss of 15 to 22 pounds.
Approaches for Weight Loss
There is no specific diet for those with fatty liver disease, but diet and exercise are mainstays when it comes to weight loss. Choose nutritious foods that are lower in calories and contain less fat. Work with your doctor to determine a meal plan that's best for you. Researchers found clear evidence that exercise improves fatty liver, according to a review in the June 2012 issue of the "Journal of Hepatology." Begin slowly if you're not accustomed to exercise; a walking program is a good place to start. Work your way up to walking 30 minutes on most days of the week.