Women have some flexibility in the amount of fat they consume, so it's OK to customize a diet plan that works best for your lifestyle. If you're on a weight-loss diet, aim for the least amount of fat. Don't take it entirely off the menu, however, because the body needs some fat to maintain cellular function, keep nerves healthy, and digest nutrients. In addition to setting a value for total fat grams, you should also know the maximum recommended grams of unhealthy fats.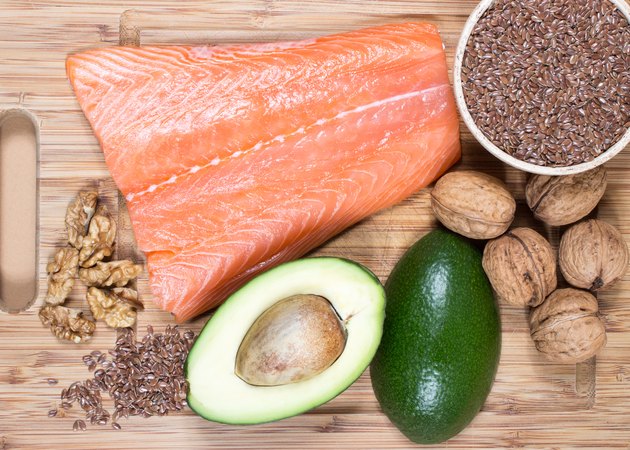 Recommended Total Fat Intake for Women
The amount of total fat women need is expressed as an Acceptable Macronutrient Distribution Range, or AMDR, which represents the minimum amount of fat needed to stay healthy and the maximum amount you can consume without increasing the risk of chronic disease. According to this recommendation, 20 to 35 percent of total daily calories should come from fat.
Based on a consumption of 2,000 calories daily, the range is 400 to 700 calories from fat, which works out to 44 grams to 78 grams of fat daily. Rather than choosing a percentage, simplify the process and go with 30 percent of daily calories, which is the amount used by the Cleveland Clinic to calculate fat intake recommendations.
Most women need 1,600 to 2,400 calories daily, depending on age and activity level, reports the Center for Nutrition Policy and Promotion. Using an intake of 30 percent of calories from fat, women who consume 1,600 calories need 53 grams of fat daily. At 2,400 calories, daily fat goes up to 80 grams. If you consume fewer calories, such as 1,200 or 1,500 calories daily, your daily fat needs are 40 and 50 grams, respectively.
Grams of Saturated and Trans Fats Per Day
It's also important to know the recommended grams of saturated fats and trans fats. Avoid trans fat since it increases bad cholesterol, or low-density lipoproteins, while lowering good cholesterol, or high-density lipoproteins. Trans fat contributes to insulin resistance and cause inflammation that's associated with heart disease. You'll find it reported on the food label, but many manufacturers have eliminated trans fat from their products. Foods that may contain trans fat includes fried foods, margarine, and commercially prepared baked goods, pie crusts and frostings.
Some saturated fats don't affect cholesterol, while others contribute to cardiovascular disease by raising blood levels of bad cholesterol. Foods with saturated fats, such as meat, butter and processed foods, contain more than one type of saturated fat, which means you'll get unhealthy saturated fats even if the food also contains a type like stearic acid that doesn't boost cholesterol. For this reason, you should limit saturated fat intake.
The American Heart Association recommends getting no more than 7 percent of your daily calories from saturated fat. If you need to lower cholesterol, aim for 5 percent or less of total calories. Based on 7 percent of calories, a 1,200-calorie-a-day diet should include a maximum of 9 grams of saturated fat. At 2,000 calories daily, the max is 16 grams, and if you consume 2,400 calories, the limit is 19 grams of saturated fat daily.
Healthy Unsaturated Fat Recommendations
Most of your daily fats should come from monounsaturated and polyunsaturated fats. Both types of unsaturated fats are good for your heart because they lower levels of bad cholesterol, but monounsaturated fats also boost good cholesterol. Polyunsaturated fats include the essential omega-3 fatty acids, which prevent inflammation and reduce blood levels of triglycerides and cholesterol.
Women need 1.1 grams of total omega-3 fatty acids daily. The Institute of Medicine hasn't established recommendations for mono- and poly-unsaturated fats, but expert sources such as the Academy of Nutrition and Dietetics suggest polyunsaturated fats account for 3 to 10 percent of daily calories, while 15 to 20 percent of calories should come from monounsaturated fats.
Ten percent of 2,000 calories equals 22 grams of polyunsaturated fats. For monounsaturated fats, 20 percent of 2,000 calories is 44 grams daily. Good sources of monounsaturated fats include olive oil, canola oil, peanut oil, avocados and nuts. Find polyunsaturated fats in corn oil, sunflower oil and safflower oil.
Give priority to getting omega-3 fatty acids and replacing saturated fats with unsaturated fats before you worry about grams of mono- versus poly-unsaturated fats. Add omega-3s to your diet with fish, walnuts, flaxseeds, canola oil and soybean oil.
Cholesterol and Other Considerations for Women
Current research shows that dietary cholesterol has a small impact on blood levels of cholesterol for most people, according to the Harvard School of Public Health. It turns out that the overall mix of unsaturated, saturated and trans fats you consume is more important in maintaining normal cholesterol levels. At one time, however, experts recommended keeping cholesterol intake below 300 milligrams, or 0.3 gram daily. If you have diabetes, cardiovascular disease or high cholesterol, talk to your doctor about the best amount.
As you replace saturated fats with unsaturated fats, you may gain more than cardiovascular benefits. Unsaturated fats may help you maintain a healthy weight better than saturated fats. After you eat, your metabolism increases as it digests food. This diet-induced thermogenesis goes up more after consuming unsaturated fats than it does from saturated fats, according to a report in the European Journal of Nutrition in April 2014. More specifically, monounsaturated fats boosted thermogenesis more than polyunsaturated fats, and both raise metabolism more than saturated fats.