Sweating for hours after your workout can be an unpleasant and embarrassing experience. Because you can experience clammy palms, sweaty feet and an unpleasant body odor while sweating, it can make social experiences difficult. This makes it important to understand why excessive sweating can occur and how you can remedy it.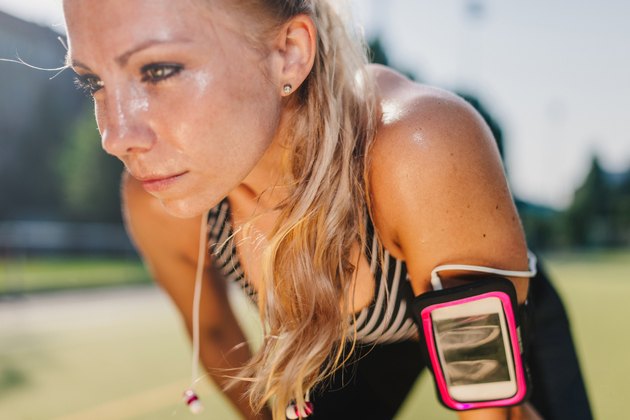 Causes
Overactive sweat glands can cause excessive sweating. This condition generally affects the armpits, feet and hands. In these cases, no specific trigger or cause is known. Prolonged sweating can also be the result of secondary medical conditions such as anxiety disorders, acromegaly, glucose disorders, hyperthyroidism, menopause and heart disease. In addition, some medications such as antidepressants and abusing drugs or alcohol can trigger prolonged sweating after a workout.
Treatment
To control sweating, wear an antiperspirant that contains 10 percent to 15 percent aluminum chloride hexahydrate. These types of deodorants will plug the sweat ducts and help reduce sweating and odor. A doctor can prescribe certain oral medications such as glycopyrrolate or beta-blocker medicines to help reduce sweat gland stimulation or control anxiety-related sweating. A doctor can also perform iontophoresis, an electrical procedure that temporarily switches off the sweat glands.
Prevention
To prevent prolonged sweating after exercise, do your workout indoors with an air conditioner or fan running. Eat enough before and after your workout to keep your blood sugar levels steady. Bathe every day -- especially following exercise -- to help reduce the amount of bacteria on your skin, which can contribute to smelly sweat. Choose wool or cotton socks when you workout. These materials will absorb moisture and help keep your feet dry. In addition, wear clothes made of lightweight natural fabrics that allow your skin to breathe during your workout.`
Warnings
Left untreated, excessive and prolonged sweating can lead to serious medical conditions such as salt imbalances and dehydration. Profuse sweat can also lead to fungal or bacterial infections of the feet and toenails. This can also result in warts. In addition, sweating for hours after an exercise routine can exacerbate or trigger certain skin conditions such as rashes or eczema.