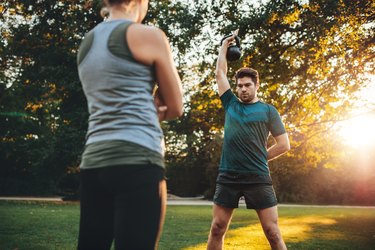 Being a personal trainer isn't your average 9-to-5 job. Personal trainers have to be available when their clients are not working, which often means early morning and evening hours. When you're not training, you may have other responsibilities such as marketing and administrative tasks. A personal trainer schedule offers some freedom, but it can be hard to adjust to.
Early Morning
As a personal trainer, you may have clients that want to work out before they go to work. This means you have to be awake and motivating clients between 5 a.m. and 9 a.m. in the morning. The benefit of training clients early in the morning is you can be finished working by 10 a.m. and then potentially have some free time before your midday clients.
Mid-Morning
Mid-morning hours between 9:30 and 11:30 tend to be pretty quiet for personal trainers. You may have some clients who work from home, or moms wanting to work out after they drop off their kids at school. These are also good hours to do some marketing and administrative tasks.
If you are employed by a gym, you may have specific duties to fulfill during hours when you are not actively training. If you are training clients in the morning and evening, this may be a break time for you to have something to eat and get in your own workout, or take care of personal obligations.
Midday
Depending on where you work, midday may or may not be a busy time for you. If you work in or near an office building, there may be demand for lunchtime training sessions anywhere between 11 a.m. and 2 p.m.
If your midday sessions are not filling up, you can use this time to teach group exercise classes, such as strength training or boot camp, to those who exercise during their lunch hours. You may also be asked to visit an office to provide lunch time personal training.
Afternoon
Afternoons between 2 and 4 p.m. tend to be the slowest times for personal trainers. You may use this time to have lunch, work out, do administrative tasks, take care of personal matters or attend to tasks assigned by your employer. If you work early morning and evening hours and you live close to where you train, you may go home in the afternoon to rest before your busy evening shift.
Evening
Evening personal training hours from 6 p.m. to 10 p.m. are usually the busiest. The after-work clientele wants to stop at the gym on their way home from work so they can spend the rest of their evening with family or friends. Your evening schedule will likely fill quickly. Ask for commitments from your clients so they do not cancel their sessions and leave you standing around for an hour. Most clients will be finished before 10 p.m. so that exercise does not interfere with their sleep schedule.
Work-Life Balance
It's easy to find yourself in the gym early in the morning and and still be there late into the evening without having taken a break. Getting creative to achieve work-life balance is important to avoid burnout.
Working both morning and evening hours may mean that you don't work five days a week. Or, you may work some mornings and some evenings but not both on the same day. You may work shorter hours six days a week to expand your morning and evening availability. Typically, trainers have the flexibility to manage their own schedules -- that means working hard but also taking care of yourself and setting limits.