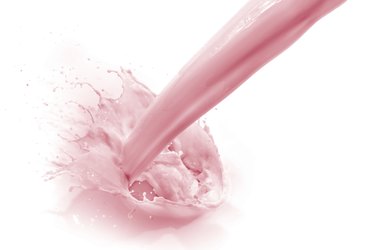 Ensure and Ensure Plus are often used in diets to gain or maintain a healthy weight. Both types of shakes provide adequate nutrition to support normal body growth, development and maintenance. The shakes are often recommended for people who are malnourished, at nutritional risk or experiencing involuntary weight loss.
Shake Vs. Shake
Ensure Plus contains more calories and protein per serving than Ensure. One 8-ounce serving of Ensure contains 250 calories, 9 grams of protein and 6 grams of fat. Ensure Plus contains 350 calories, 13 grams of protein and 11 grams of fat per 8-ounce serving. While both shakes are excellent sources of an omega-3 fatty acid -- alpha-linolenic acid, or ALA -- Ensure Plus contains 650 milligrams compared to only 320 milligrams in Ensure. ALA is a plant-based omega-3 essential fatty acid that has been shown to promote heart health by lowering cholesterol levels and improving blood pressure.
Nutrient Similarities
Both types of shakes are excellent sources of 24 essential vitamins and minerals as well as heart-healthy omega-3 fatty acids and are low in fiber. Ensure contains 1 gram of dietary fiber per 8-ounce serving. Ensure Plus contains no dietary fiber. Both shakes are suitable for people with celiac disease (gluten intolerance) and lactose intolerance. Also, both shakes are considered halal and kosher.