Physical exercise is an important part of maintaining your health. However, performing these exercises improperly can lead to an injury. One such exercise, the shoulder press, helps to strengthen your shoulders, but it can also cause neck pain. To prevent this, make sure to perform the exercise correctly. If you do hurt your neck, treat the injury correctly at home or contact your doctor.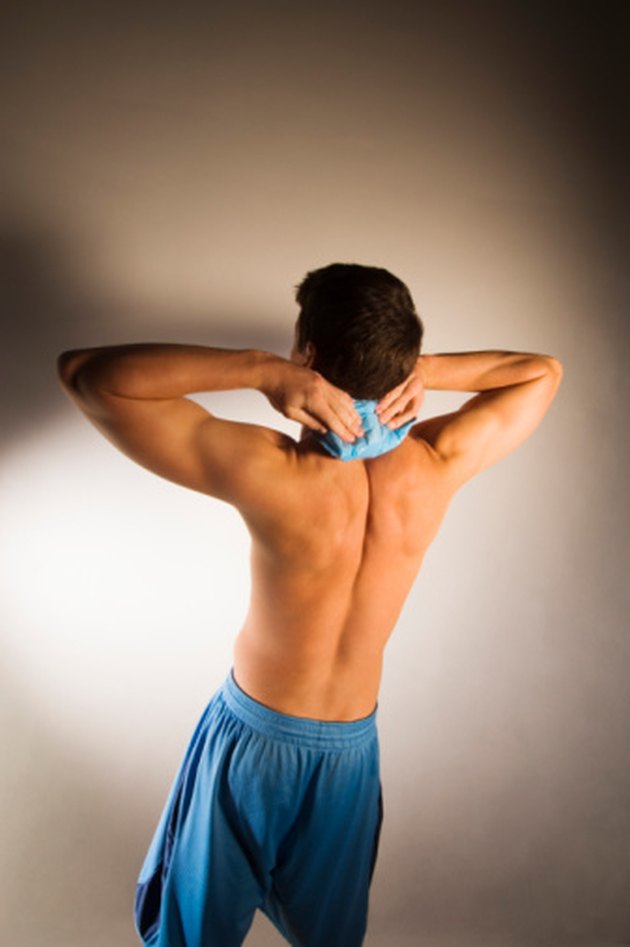 Shoulder Press
The shoulder press, or military press, is an exercise designed to build muscle in your shoulders. To perform a shoulder press properly, sit on a bench with a bar behind your head. Grip the bar slightly wider than your shoulders. Once you have control of the bar, lift it above your head. Then, lower the bar in front of your face, to your collarbone. Repeat this process for your desired amount of repetitions. You can also do this exercise while standing, although it may put unwanted stress on your back. In addition, you can substitute dumbbells.
Neck Injury
If performed improperly, or if you attempt to lift too much weight, you can injure your neck. Most likely, you will suffer a muscle strain. Strains occur when your muscles are overworked, which leads to fatigue and eventually, a strain. Strains in your neck can also occur simply by keeping your muscles tense for a prolonged time. If you strain or injure your neck, stop the exercises that cause pain immediately, and do not return until the injury is healed.
Treatment
Minor neck pain can usually be treated with self-care measures including rest, over-the-counter pain medication, alternating between the use of hot and cold treatment, and gentle stretching. If this does not work, more aggressive treatment may be needed. Your doctor may give you a stronger pain medication or a corticosteroid injection. Physical therapy can also go a long way in treating neck pain. According to the Mayo Clinic, therapy can improve pain by restoring muscle function, optimizing posture to prevent overload of muscle, and increasing the strength and endurance of your neck muscles.
Considerations
Although neck pain does not always require medical attention, sometimes it can be a serious health concern. According to the Mayo Clinic, if you experience any of these symptoms, contact a medical professional right away: Shooting pain down your shoulder or arm, numbness or loss of strength in your arms and hands, change in bladder or bowel habits, or inability to touch your chin to your chest.
In order to prevent injury, make sure to not lift more weight than your body can handle. Start slowly and gradually add weight over time. Ask a trainer or professional to demonstrate the proper form for performing an exercise if you are unsure.