Taking prenatal vitamins may be suggested for women who are thinking of becoming pregnant. Prenatal vitamins are a specially formulated combination of vitamins and minerals essential for normal fetal development and the prevention of certain birth defects. As in the case of any medication, prenatal vitamins can cause side effects in some women whether taken before or during pregnancy.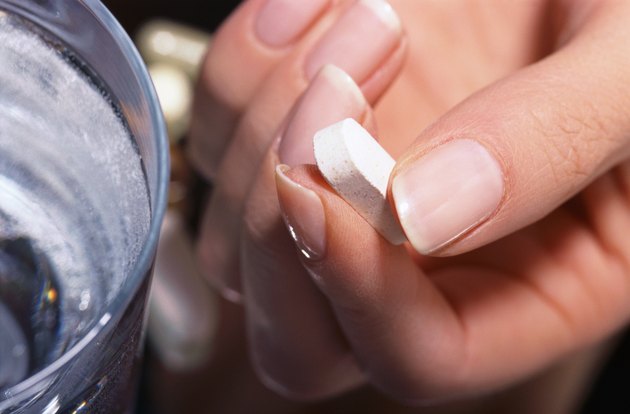 Vitamins and Minerals in Prenatal Vitamins
During pregnancy, the daily requirement for certain vitamins and minerals increases. To meet this need, prenatal vitamins are formulated with higher levels of vitamins and minerals than levels found in multivitamins. For maternal health and proper fetal development, higher amounts of folic acid, iron and calcium are incorporated. You can find vitamin A, thiamin, riboflavin, vitamins B6 and B12, niacin and vitamins C, D, E and K listed in prenatal vitamins. Prenatal vitamins supplement a woman's daily requirement for potassium, magnesium and zinc.
Recommendations
Your physician will recommend prenatal vitamins to provide the additional vitamins and minerals needed before conception, during pregnancy, and sometimes while breast-feeding. Many vitamins and minerals can cause serious side effects if taken in large doses. Never take more than the prescribed dose of a prenatal vitamin. Do not take any other multivitamin products within two hours before or after taking a prenatal vitamin. Vitamin overdose or serious side effects can result when similar vitamin products are taken together at the same time. Before taking prenatal vitamins, consult your physician.
Side Effects
When taken as directed, prenatal vitamins do not cause serious side effects. Some women have an upset stomach after taking a prenatal vitamin, while others may experience nausea, vomiting and diarrhea. The higher level of iron can lead to constipation or darkened or green-colored stools. An unusual or unpleasant taste in the mouth is another side effect. There is always the potential for an allergic reaction to prenatal vitamins. Symptoms of an allergic reaction include hives, difficulty breathing, swelling of the face, lips, tongue and throat. Seek immediate medical attention if you are experiencing these signs of an allergic reaction.
Tips
If you are experiencing nausea caused by taking a prenatal vitamin, try taking it with a snack or at night. Tips for coping with the side effects of constipation include drinking plenty of water and adding more fiber to your diet. Talk with your healthcare provider about using a stool softener and ask if increasing your daily physical activity is advisable.