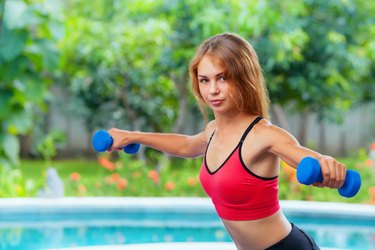 Pull-ups are one of the best exercises you can do to strengthen the muscles of your back. The developer of the DVD workout series known as P90X knows this, and encourages you to install a home pull-up bar to participate in the rigorous workouts.
If a pull-up bar is just not an option, explore alternative exercises that get you the same benefits. Free weights or resistance bands offer alternative ways to work the same muscles you might by using a pull-up bar — including the upper back, rear deltoids, biceps and core.
1. Bent-over Row
Bent-over Rows are a good alternative to the pullup. To perform this exercise, use dumbbells or a barbell.
HOW TO DO IT: After grasping the weights, slightly bend your knees and hinge from your hips while ensuring your back is straight. Go no more than 90 degree to the ground. Let your arms hang down toward the floor. Pull your arms back, allowing your elbows to skim the ribs. Hold this position for one or two counts; focus on pinching your shoulder blades together. Release to complete one rep.
2. Reverse Fly
The reverse fly targets the upper back and backs of the shoulders.
HOW TO DO IT: Sit in a chair or on a workout bench with a dumbbell in each hand. Lean forward so that your chest is toward your knees. Keeping your arms straight and your elbows slightly bent, open your arms widely — as if you were going to give someone a hug — and squeeze your shoulder blades together. Slowly lower your arms back down.
3. Resistance Band Row
Resistance bands may be easier to store at home than free weights. They come in a variety of intensities, choose one that makes 10 to 12 reps feel hard.
HOW TO DO IT: Wrap the band around a heavy stationary object such as the leg of a sturdy table. Grab both handles and sit on the floor with your legs slightly bent and your back straight. Pull your arms in toward your body while keeping your elbows in close to your sides. Pause briefly and then slowly release to complete one rep. Engage your abdominal and lower back muscles in order to keep your back straight, and also to get the same effect you would if you were using a pull-up bar.