You've been dieting for a month, eating only 1,300 calories a day, and the scale still hasn't budged. It's a discouraging situation, but one that can likely be remedied. Many factors can lead to a stall in weight loss -- or a lack of weight loss altogether. Address each possible factor to start shedding the extra pounds.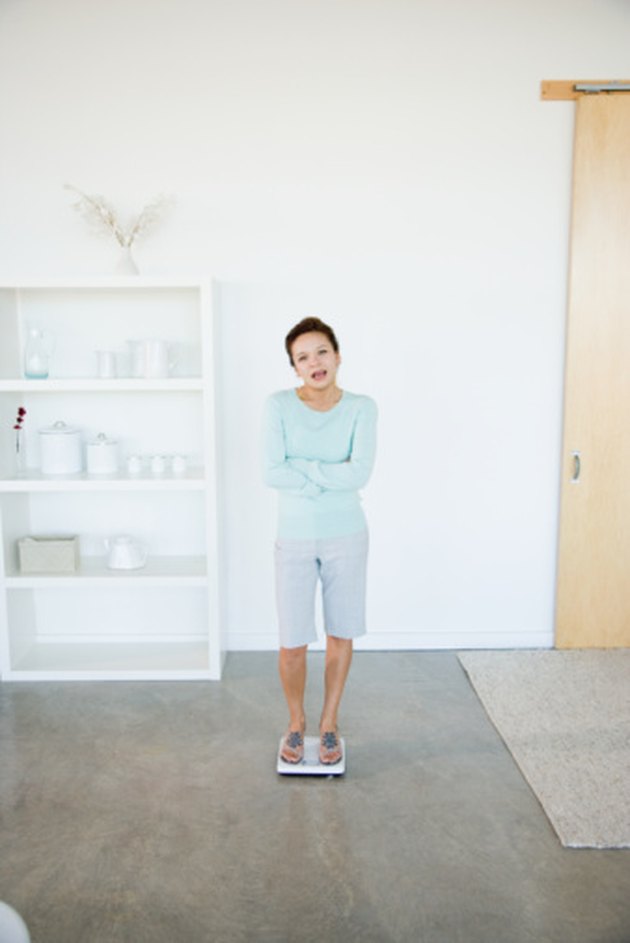 You're Eating More Than You Think
You may think you're eating 1,300 calories a day, but it's entirely possible that you're eating more than you think. Most Americans underestimate the number of calories they consume, according to University of Arkansas professor Scot Burton who researches nutrition and marketing. To ensure you're not one of them, keep a record of every single bite of food you eat -- even if it's only one bite of cheesecake or a few grapes. Use a kitchen scale to measure portions as well, as it is easy to make mistakes when you rely solely on visual cues. Meticulous records can help you to determine if nibbling or underestimating portions is the culprit behind your stall in weight loss.
Metabolism
Your basal metabolic rate, or BMR, determines how many calories a person must eat in order to maintain her weight. If you are inactive or do not weigh very much, your BMR may be lower than you'd think. A 30-year-old woman who weighs 120 lbs. has a BMR of 1,341 calories. A person with this BMR will have a difficult time losing weight on a 1,300-calorie diet without significantly increasing her level of physical activity. Certain medical conditions and medications can also cause a person's metabolism to be lowered: Beta blockers, often used to prevent high blood pressure or migraines, are only one of the drugs that may slow metabolism.
Diet
Creating a calorie deficit will eventually lead to weight loss. However, all calories may not be the same. Increasingly, evidence points to a low-carb diet for more efficient weight loss. The Harvard School of Medicine analyzed four studies and determined that low-carb dieters could expect to lose 9 to 13 pounds more than dieters on a low-fat diet during the first six months. After a year, results tend to be about the same. If you want to break a weight-loss stall, however, a low-carb diet may be worth a try.
Recommendations
Increase the amount of activity that you do to begin to lose weight. Any amount of activity will help you to lose weight, but you will see the best results with 60 to 90 minutes of aerobic activity. Cycle at 14 miles-per-hour for 60 minutes, and you'll burn 600 calories if you weigh 125 pounds, or 888 calories if you weigh 185 pounds. The more you weigh, the more calories your body burns during activity because it uses more to maintain its metabolic rate. Avoid eating sugar and refined carbohydrates, as these cause high insulin levels, which in turn, can facilitate fat storage.