Losing weight is simply a matter of using more calories in a day than you consume. Any type of exercise will help you toward this goal. If weight loss is your primary goal, however, you need to choose the type of exercise based on what will give you the greatest calorie deficit. Tracking the amount of calories you burn at each gym session and what you eat throughout the day will help you better predict your weekly weight loss.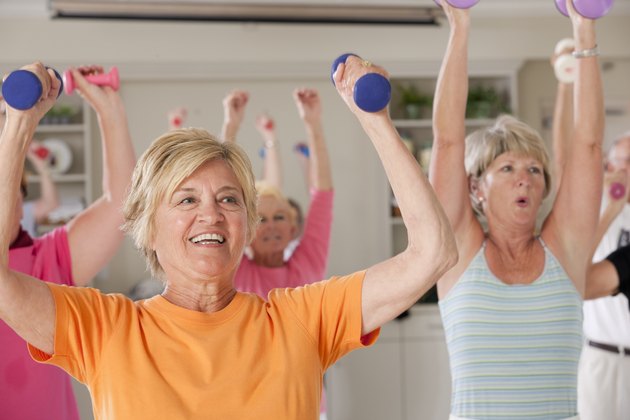 Sample Exercises
In July 2004, the Harvard Medical School released a chart of estimated calories burned during 30 minutes of popular workout or everyday activities. The research indicates that vigorous biking is the best calorie-burning exercise, with 391 calories expended by a 155-lb. person. The same person jogging on an elliptical trainer burns 335 calories, while rowing at a moderate pace burns 260. Vigorous weightlifting causes you to use 223 calories, but increasing your pace during a circuit training lifting session leads to a loss of 298 calories.
Increasing Calories Burned
Cardiovascular exercise like riding a bike or running on a treadmill has a clear advantage over weight training when it comes to calorie-burning at the gym. If you want to really take your calorie loss to maximum levels, however, you cannot just run at one consistent pace for 30 minutes. Triathlon coach Paul Frediani states that you should try a workout in which you exercise at a sprinting pace for 60 seconds followed by four minutes of recovery at a moderate intensity. Repeat these intervals up to four times during a 60-minute workout; this will burn about 600 calories in a 145-lb. woman.
Fat-blasting Weights
Though weight training burns fewer calories than some gym exercises, it is highly useful as a part of a weight loss program. Certified strength and conditioning specialist Deborah Mullen states that muscles are the best calorie-burning tissue in your body. By building more muscle, you increase your metabolism and will burn calories even when you are resting. According to Mullen, your resting metabolic rate accounts for 60 to 75 percent of the total calories you burn a day, so building muscle may help you burn more calories over a 24-hour period than cardiovascular exercise.
Tracking Each Session
There are approximately 3,500 calories in 1 lb. of fat. Once you know this, you can track approximately how many calories you burn in each of your gym sessions and know roughly how many pounds of fat you are losing per week. If your diet remains consistent, you would have to burn around 500 calories per gym session, seven days a week to lose 1 lb. Many people couple exercise with a slight reduction in daily calorie intake to improve the chance of losing 1 or 2 lbs. per week.